'Orange is the New Black' star visits AIC
Lea DeLaria is funny. Really, really funny.
The 56-year-old actress, who plays 'Big Boo' in the blockbuster Netflix series 'Orange is the New Black,' visited American International College on Feb. 10 and kept a nearly full Griswold Auditorium laughing, clapping and even shouting along with her for an hour.
She paced the stage, yelling out jokes laced with expletives, including her apparent favorite 'F-bomb' many times over. She delivered fast-paced jokes about the college, show business, her life as a lesbian, and the show in which she plays an inmate at a women's prison in Connecticut.
"I don't like being told I can't do something because I'm gay," she said, turning the message to the personal. "You do not have to apologize to anyone for being who you are."
DeLaria also took note of the renovations done recently in Griswold, saying, "This is a pretty awesome theater you have here."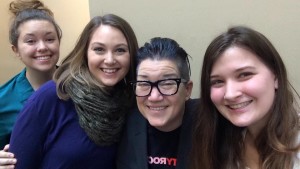 Her performance included sharply delivered spoken riffs on being a lesbian, being mistaken for a man, being in a group changing room at a department store, what to call her "girlfriend", and the uncomfortable aspect of filming sex scenes with her female lover in 'Orange'.
"The screw diver scene was awkward," she admitted, to much laughter.
"When they do the sex scenes, they clear the room. They take really good care of you. We usually work through it fine," she said.
An accomplished stage comedian and actor, DeLaria said being part of 'Orange' has been rewarding and a different experience than anything she's done.
"The show is very hush hush. They only let you see the scenes you are in," she said, noting that the plot doesn't always become clear until she sees the show itself.
She said Big Boo was not part of the original show, but after her audition they wrote the character in just for her.
Her absolute favorite part about being on the show is "working with Natasha Lyonne," who plays her lover, Nicky Nichols. The two often go off-script during taping, and their antics often end on the actual show.
"I (expletive) love Natasha Lyonne. She's a pistol," DeLaria said.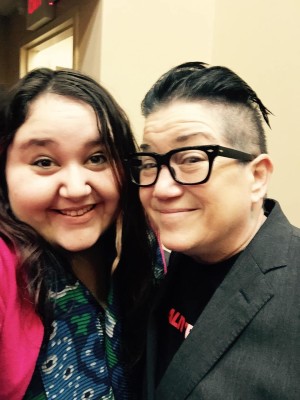 After a question-answer session from the stage, DeLaria walked out the West Wing, where she posed for photographs with dozens of students who waited patiently in line for a chance to meet her.
Selfies with DeLaria began showing up quickly on Facebook, Instagram and other social media.
Senior Aubri Bailly said she loved having the star at AIC and she loved the act.
"This is what our school needs," said Bailly. "She has irreverent humor. She's hilarious, but she also opens your eyes to some real things."
Sophomore Rebecca Gray also enjoyed the show.
"I went because I watch 'Orange is the New Black' and I love it," Gray said. "She's a great person to look up to because she's really self aware and confident. Even if you don't believe everything she believes in, you have to admire her."
LeLaria began doing stand-up comedy in 1982. She appeared on the Arsenio Hall Show in 1992, and as such became the first openly lesbian comic on television.
Besides 'Orange', she has acted in 'Edge of Seventeen' and 'The First Wives Club,' among others.