Nora Guthrie – bringing her father to life at AIC
The youngest daughter of the late musical icon Woody Guthrie visited AIC in March to let folks know that her father lives on.
Yes, he lives on.
That's nearly five decades after he died of Huntington's Disease in 1967.
Nora Guthrie emphatically stated in her talk that her father remains among us through recordings of some of the more than 3,000 songs – poems, really, as he did not write music – that he artfully penned even as his health deteriorated and he could no longer sing.
Before a crowd of about 50 gathered in the West Wing, Guthrie spoke, showed a short film, and played selections of her dad's music sung by many bands and in many genres. Her visuals and audios were peppered with her own commentary, which included a passionate call to students, faculty and staff to find a creative spark within themselves, and keep it strongly lit.
"Woody Guthrie was no different than you, or from me," she said.
"We all have that light in us, maybe it's there in different ways. It's up to us to find it, and to cultivate it, make it a part of ourselves. I hope that my visit here today will help you to do that."
Nora Guthrie's hour-long visit was sponsored by the AIC Cultural Affairs Committee.
Her analysis of her father included stories about his life and the creative forces that were so much a part of that.
Known primarily as a folk singer-songwriter from the 1930s and '40s, Woody Guthrie was also a poet and artist. He is best known among many for the song 'This Land is Your Land,' which he wrote in 1940 in a New York City "flea-bag hotel," according to his official website. He is also remembered for his political leanings, and referred to himself as a "commonist," or someone who speaks for the common person, his daughter said.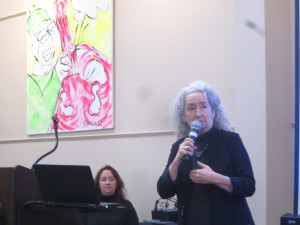 Woody Guthrie was born in 1912 in Okemah, Oklahoma. His life was marked by both music – he began as a hillbilly singer – and travel, with moves to Texas, California, Florida, New York and many other states, where he wrote and sang along the way. Among the bands he played with were 'The Corn Cob Trio' and 'Pampa Junior Chamber of Commerce Band.'
He spent his last 13 years, from 1954 to 1967, in a hospital with the incurable degenerative nerve disorder that ended his life.
Nora Guthrie has been working for many years with her father's lyrics, many of them hand-written and accented with watercolor drawings. She told her AIC audience that she considers each piece of writing and works to place it with the appropriate musician or band to put it to music and record it.
Among the Woody Guthrie songs recorded in recent years are: 'Jesus Christ' by U2, 'California Stars' by Billy Bragg & Wilco, 'Way Over Yonder in the Minor Key,' by Billy Bragg, 'Ag'inst th' Law' by Corey Harris, 'Wild Card in the Hole' by Madeleine Peyroux, 'You Know the Night' by Jackson Browne and Rob Wasserman, and an entire album, 'Wonder Wheel,' by the Klezmatics.
Nora Guthrie noted that each band or musician has made her father's songs their own, giving them a sound that Woody likely wouldn't have done in his own voice. The new music shows the depth and breadth of her father.
"He lived a 360-degree life that was full of a lot of things," she said. "I think we have to add that richness of life to the political life that he was so well known for."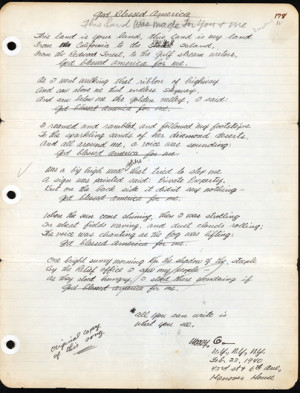 During her presentation, Nora Guthrie spoke of her career keeping her father's legacy alive. She said she considered herself the "coal-holder," a person who holds the flame lit by her father's work.
At one point in time, Woody wanted to explore Judaism, so he wrote a song called 'Honeykey Hanukah', performed by The Klezmatics.
Another song featured in the presentation was from rock band the Dropkick Murphys. The song 'I'm Shipping up to Boston,' was familiar to the audience.
At the end of the presentation, Nora held a question and answer with the audience. One individual asked Nora "Is there anything personal that you don't want to share?" Nora simply answered "nope" Nora was basically an open book during the whole presentation. Nora also stated that she reached out to all the artists she worked with herself.
Nora Guthrie also recalled her father as a man who loved life and loved people, from his wife and children to the many friends and fellow musicians who spent time with him always, including during his hospital years. Friends and family would gather at the Guthrie home with Woody Guthrie, where he would spend Sunday afternoons, and make music for him.
Guests were as illustrious as Joan Baez, Phil Ochs and Bob Dylan, budding musicians in their own right who were eager to play their new tunes for him.
"He didn't want to hear their music," Nora Guthrie said with a laugh. "He'd say, 'Play my songs.' Bob Dylan learned so many of them he called himself 'The Woody Guthrie Jukebox.'
AIC History Professor Gary Jones, who brought many of his students, said Nora Guthrie left her mark on the campus community.
"I really appreciated her presentation because she linked Guthrie's art and activism and then connected both to the current generation. She did so by showing how contemporary musicians are recording Woody's songs and lyrics that have been preserved by the Foundation and Archives (including Dave Grohl of Nirvana and Foo Fighters fame)," Jones said.
"Perhaps that art and activism are, or ought to be, an integral part of human life. When they are absent an important part of our humanity is absent or unfulfilled," he said.