'For Colored Girls:' AIC Theater's Second Fall Production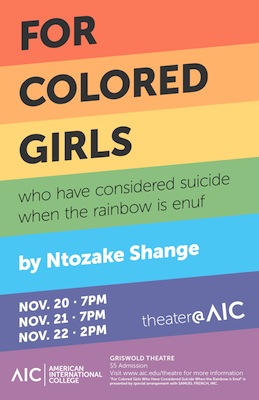 Theater lovers, get ready for a dose of reality.
And a dose of fun, high emotion, and maybe a bit of sadness, all in one entertaining production by the AIC Theater Department.
The award-winning celebration of African American women, 'For Colored Girls who have considered suicide when the rainbow is enuf' by Ntozake Shange, is in the final rehearsal stages now and promises to be lively and meaningful.
The second full production of the semester will take to the stage on the weekend of Nov. 20-22, with Friday and Saturday shows at 7 p.m. and Sunday at 2 p.m. in the Griswold Theatre.
The show is free for students, though there will be an admission of $5 for other adults.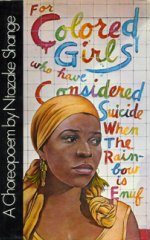 It is a play that the AIC community may remember from March of last year, when eight female students did a stage reading of it in the West Wing. Theater Director Frank Borrelli said the production is back by popular demand, and on the big stage where sets, sounds and lights will be included.
"We happen to have a lot of women of color involved in the program I thought it would be a good play to do fully after a very successful stage reading last year," Borrelli said.
"It's going really well. We've been running it for a long period of time. We're staging the final scene now and we're very close to being ready," he added.
The play is reality-based is Shange's first and most acclaimed theater piece.
It touches on the depth, complexity, poetry, passion and angst of the seven young women coming of age at the height of the women's movement and in the wake of the civil rights movement. With plainspoken words about some of life's greatest pains as well as pleasures, the actors speak of issues including romance, love, heartache, infidelity, rape, theft, solidarity, education, and the brutal murder of one character's children at the hands of their father.
It has been performed both on and off Broadway, adapted as a book, a television film, and a theatrical film. The 1976 Broadway production was nominated for a Tony Award for best play.
On the stage in the Griswold will be actors Dawn Shaw, a senior theater major who was in the stage reading last year, Elizabeth Williams, Drahcir Dickson, Mia Sylvain, and others.
Borrelli said he believes the audience will connect well with the issues and emotions of the play.
"I think it's unapologetically truthful," Borrelli said. "It's true. It doesn't sugar coat anything."
The actors already love it.
"They love being free, being able to say the things they've been thinking and feeling," he said.
Under Borrelli's leadership, the AIC theater program has grown in three years to 27 majors and a number of minors.