Amazing AIC football catch makes national television
The AIC football team has made the big time on ESPN Sport Center.
That thanks to YJ Defensive Back Devonte Dillion, who is a Communication major and a staff writer on the Yellow Jacket student newspaper.
AIC was playing Pace University and the Sept. 17 game was going quite well for the Yellow Jackets. The YJ defense proved time and time again that they were the best defense in the conference by stopping Pace offense on every possession. AIC did not allow a single point in the game but that is not why AIC was on Sport center. With the game coming down to the wire, AIC needed a big stop to secure the victory. In the beginning of Pace's final drive, they had received a 15 yard penalty that would put them closer to scoring range. It was looking more and more that Pace would put titself in field goal range to push the game into overtime but that thought quickly changed.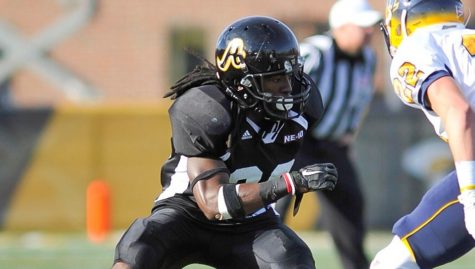 The ball was thrown into the same direction as junior defensive back Devonte Dillion and he made a spectacular one handed catch that would seal the victory for AIC.
Dillion said he didn't have much time to think about the move. Rather, he just did what was called for and did the thinking later.
"I had in my mind that somebody had to step up and make a game changing play," Dillion recalled.
"It was fourth quarter with about 1:17 left in the game and we were up 3-0. On that play I was playing man to man coverage on a receiver who coach let us know was their number one target. I knew eventually they were going to go to him so I waited for my chance to strike," he added.
Dillion indeed made an incredible play but he did a lot of film study and he recognized the situation he was in. This play was made before it happened because of the hard work and preparation Devonte put in before this play was a reality.
At the outset, Dillion had his work cut out for him, but that changed as the play progressed.
"I initially was supposed to play zone coverage," he said. "When the offense came out into a certain kind of formation, I switched the coverage to man because I felt I could guard him one on one and let everyone else in the secondary worry about other players. As the play began, the receiver ran his route and the ball was overthrown in his direction. By instinct I threw my hands in the air to see if I can make a play on the ball. Little did I know, I caught it and next thing you know I am running down the sideline in disbelief."
This play was made by Dillion because of his confidence to guard their best receiver one on one and not be phased by the challenge.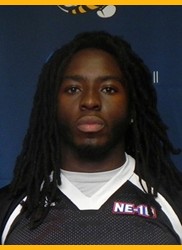 How did it feel watching the amazing play on national television?
"Not by any chance did I ever think that play would make it to Sport Center. My initial reaction was surprised," he said.
"One of my friends Aaron Yates ran into my room saying the play was on the Sport Center Instagram account. My notifications began blowing up on Instagram and I began to get a lot of followers. I was completely surprised the play gained so much attention. I was just trying to do the best I could to help my team secure the victory."
As you can see Devonte Dillion is very humbled about the whole situation and it is that kind of attitude that will allow him to keep doing well.