Be a women's rugby Valentine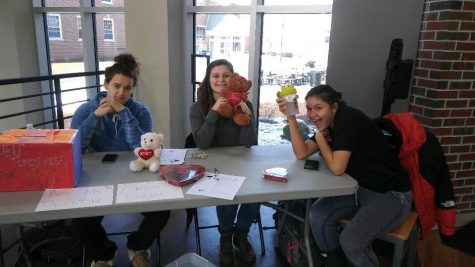 The American International College Division I women's rugby team is on a mission to fundraise for Las Vegas Sevens tournament held March 2-3, 2017.
The goal? To claim the first place title playing against several other teams around the country.
In 2016 around the same time in March, the AIC women's rugby team was given a chance to go to Las Vegas Sevens, and made it to the final against Lindenwood University. The final score was 15-5, AIC winning the whole tournament.
The Las Vegas Sevens is more then just women's college rugby. There are more divisions that attend, men and women, in different categories – from high school, club, and college.
Las Vegas Sevens is the largest rugby tournament in North America. It has the greatest competition and is just a great experience for the players.
"It's rapidly becoming one of the biggest global events for the fastest growing sport in the United States," reported USA rugby.
At AIC, the mood among the women's rugby team is high excitement.
"Words cannot explain how excited I am about Vegas! Being granted the opportunity to defend our title and travel for the second time is beyond exciting," said Shamira Robles, a junior AIC rugby player.
Going back on AIC women's rugby in the year 2016, for sevens it was a great year because not only did they win Vegas Sevens, but they took first place in almost all of their tournaments for the rest of the season.
However now they are struggling with money and need help. So the women's rugby team has been coming up with some ways to fundraise as much money needed for their goal and more to go to Las Vegas to defend their title.
The team has been struggling with their fundraising ideas for multiple reasons, however they will not stop until they reach their goal.
"The obstacles we have to overcome to end up on top are challenging; fundraising being one of them. I feel that as a team we are making great progress, we managed to fundraise about $1,600 in a matter of two weeks," said Robles.
Right now, from February 8-13 one of the teams fundraising ideas was Candy Grams, where you can buy your Valentine or secret admirer a chocolate or Teddy Bear. Then, the rugby girls delivered the Valentines on Valentine's Day.
Another date to remember is February 15-17. From 11 a.m. to 1 p.m. located in the Hive Lounge, they will be having a Swap Meet where they sell clothes, hats, and accessories for low prices.
The effort these girls are putting in is incredible they have even created a donation box that they carry around to collect any kind of donations from pennies to dollars anything counts.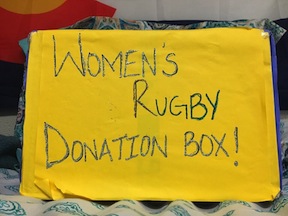 "Fundraising is going well, all the girls are working hard everyday to reach our goal but we're still short so look for fundraising events all over campus to help support us!" said Maggie O'Rourke, a senior rugby player.
As you can see the rugby girls are faced with a real challenge and are working their hardest between school and practice to accomplish their goal to go to Las Vegas and many more tournaments after that.
"Vegas is our chance to prove that we didn't win last year just because of luck, but that we're one of the best teams in the nation and can compete at the highest level amongst the best teams," said O'Rourke.
So when you see a rugby girl please help and donate, so we can send them to Las Vegas Sevens to make our school known.