Colin Kaepernick's battle with President Trump heats up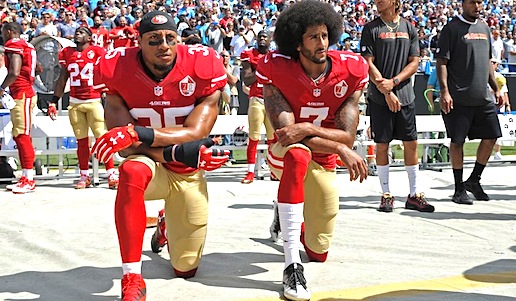 Hang on for a minute...we're trying to find some more stories you might like.
Colin Kaepernick went from playing on football's biggest stage, to being called out by the President of the United States of America within just four years.
In 2013, Kaepernick was three points away from winning the Super Bowl, and now he finds himself as a free agent waiting for a team to call. President Donald Trump gives himself credit as the reason Kaepernick is having all of his problems.
On March 20 at a rally in Kentucky, President Trump thought it was a great time to call out the quarterback for his previous stand against racism in America.
Kaepernick is infamous for taking a knee during the United States' national anthem last season, which ruffled some feathers throughout the NFL and America – all this while he was exploring his right to protest.
Though he has already been on record saying he will stand for the anthem this season, Trump blasted Kaepernick:
"And you know, your San Francisco quarterback. I'm sure nobody ever heard of him. I'm just reporting the news. There was an article today — I love to report the news and then they said I made a mistake, right? I said, 'No, the people reporting the news made a mistake if it's wrong.' But there was an article today, it was reported that NFL owners don't want to pick him up because they don't want to get a nasty tweet from Donald Trump. Do you believe that? I just saw that. I just saw that. I said if I remember that one I'm gonna report it to the people of the Kentucky. Because they like it when people actually stand for the American Flag." (via NBC Sports)
Throughout the video of the rally, it's clear he is bragging that he has "taken a part" in Kaepernick's inability to land with a team.
Saying teams are afraid of a "nasty tweet from Donald Trump" is something I would assume most people wouldn't think of hearing. While some may not agree with Kaepernick and his stance, it shouldn't affect his ability to land a roster spot on an NFL team.
Amid the controversy, Kaepernick has donated $50,000 to the Meals on Wheels campaign, which may take a hit with the recent Trump budget cuts. Meals on Wheels is a charity that delivers food to the elderly people who are unable to get to a grocery store or need help.
Kaepernick's good deed came after the athlete recently donated $50,000 to a Social Media charity called Love Army for Somalia, which hopes raise $2 million for the starving children of Somalia.