AIC Students Model Mittens to Raise Money for the ACLU
On a recent Sunday morning, students Crystal Mallett, Malaysia Scott, Taylor Heggins, Justin Lipscomb and Jalah Oates, participated in a photo shoot in front of the Hive. They struck poses as they modeled mittens that sported social justice patterns.
Local photojournalist Lindsey Topham and knitting designer Emma Welford organized the event. Topham explains the project.
"A group of knitting designers are banding together to publish an ebook of mitten patterns with 100% of the proceeds being donated to the ACLU," Topham said.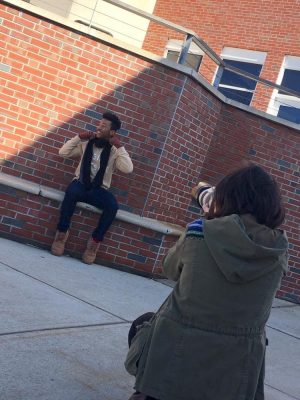 "The election of Donald Trump and the Pussy Hat Project has thrust craftivism back into the spotlight, and we believe we'll be able to raise a good amount with this approach, considering designer Bristol Ivy's recent Peace de Resistance Mittens raised over $10k for charity in less than 2 weeks after release. We are all looking to do our part in this turbulent political climate and want to use our skills, business platforms and reach to advocate for causes we believe in. Everyone involved in this project is donating their time and work so all proceeds can go straight to the ACLU," she said.
As you can tell from the images, the students had fun while working to raise money for an organization that protects civil liberties for Americans.
The students also shared personal stories of resilience and community engagement. The ebook will include images of the students modeling the mittens as well as their narratives of overcoming adversity.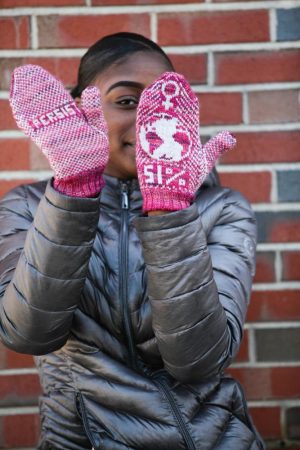 Students Justin Lipscomb and Crystal Mallett previously participated in a workshop that Mallet organized and Professor John Nordell facilitated. At the event, students discussed the power of social media and images, and then engaged in a photo shoot designed to redefine the color "nude".
Speaking of the power of social media and images, Professor Nordell posted on Instagram an image of the redefining "nude" photo shoot. Photojournalist Lindsey Topham saw the post, contacted Professor Nordell, which led to this student involvement with raising money for the ACLU. Please share this article!