Review: Palate, AIC's neighbor and a fine restaurant
Hang on for a minute...we're trying to find some more stories you might like.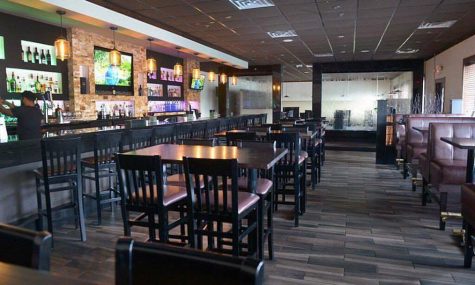 With all the stresses of life, sometimes the best therapy is a night out with good music, delicious food, fine company and a great atmosphere.
Whether you are a student residing in the dorms, a commuter, or faculty living in the community, there are some hidden gems in Springfield that are sure to satisfy.
Excitingly, there's a fairly new restaurant: Palate, which takes authentic Latin cuisine, pairs it with fine dining, and still has a feel that it is open to everyone.
Located on 1168 Boston Rd, near Five Mile Pond, Palate is in a non-descript building.
The majority of us have driven past it many times without the slightest idea there could possibly be anything noteworthy inside. However, walking in on a Saturday night, the impressive décor immediately assures you that you've made a good choice.
Palate frequently has different events such as Educators Social Hour, Ol' School Night, and Salsa Night, where they even host free salsa lessons. November 22nd, they will host their 2nd annual Holiday party with live music and a traditional pig roast. I went to Palate After Dark, last Saturday, when they featured popular English and Spanish Music.
The ambience is elegant but hip, with tasteful colored lights reflecting against the bar's backsplash and off glass panes with cascading water that separate the cocktail lounge and the dance floor.
The menu has an array of options and there are dishes for every budget. In my group of four, two companions got tapas (appetizers) and one friend and I shared an entrée. The plates are substantial and there was an ample amount of food.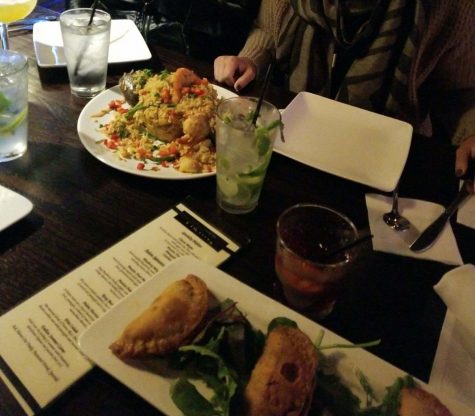 The entrée I shared was Paella, a traditional Spanish dish with mixed veggies, seafood, chicken and rice. I also added mofongo, a traditional Puerto Rican dish with fried plantain. It was satisfying comfort food, tasting as if it was a home-cooked meal.
Although the atmosphere of my experience was presumably different then it would be during a weekday, the food alone would make me return anytime. However, being a college student, the music and vibe added to my experience ten-fold.
To be noted, it has popular, more trending music, but it is definitely a cocktail lounge versus a club or something for those who are looking for more of a party scene, even though dancing is surely encouraged.
While there was a diverse mix, there weren't too many people there. This could also be that it might not be well- known. I, myself, had only heard of it the week before.
That being said, I will definitely be going back.
If you find yourself with a free evening and you want to spend time in a