AIC hosts The AIDS Memorial Quilt
Hang on for a minute...we're trying to find some more stories you might like.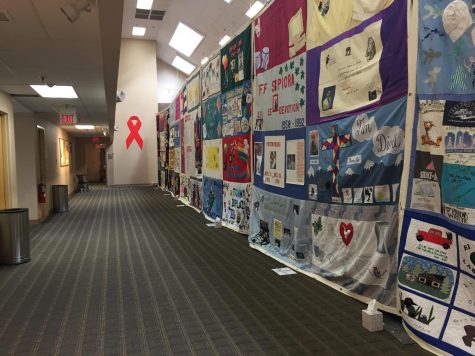 The AIDS Memorial Quilt officially arrived on campus last week in conjunction with the 30th anniversary of the memorial.
On Thursday, Nov. 30, AIC welcomed portions of The Quilt with open arms, as The Quilt was proudly put on display for all to see.
The West Wing Gallery in the Karen Sprague Cultural Arts Center was decorated with many personalized quilts, commemorating those who lost their lives to AIDS during the epidemic, which started in 1981.
The display ran through Sunday, Dec. 3 and was free and open to the public, allowing patrons the opportunity to come witness a piece of history and learn more about the disease and its effects on those who suffered.
Each quilt panel represents an individual who has passed away from AIDS and was not given a proper funeral. There was a lot of controversy between the families of the deceased and the funeral homes because they did not want to handle the remains, thus, resulting in families making the quilts in order to grieve.
The West Wing was filled with a somber but warm feeling while students and staff joined to honor the deceased.
Parts of The Quilt display focused on those who have lived in Massachusetts at one point or another, along with panels honoring several other victims from New England. The people who have lost their lives to AIDS have different stories, ages, ethnicities, and are both male and female.
One of the more difficult quilt sections to look at was one that read, "La Haiti de Dios" or "Little Daughter of God." Baby pins and a little pink sweater decorate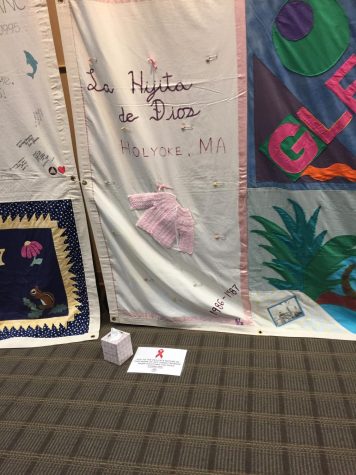 the all-white quilt, which is a very solemn sight. The only thing we know about the little girl is that she had been born in Holyoke, Mass. in 1986 but somehow contracted AIDS and passed away just one year later.
The AIC community was very proud to have The Quilt on campus, even if for a short time. Matthew Finn, a freshman at AIC, was a bit taken aback by the Quilt.
"It is a very warm environment just to see how we spread it out," Finn said. "It sort of hits you deep down."
The Quilt also featured communities who came together to pay their respects. One Quilt panel features over 100 signatures and little messages written to the departed. This Quilt was a part of World AIDS Day celebrated by the city of Worcester, Mass. in 1995.
It is great to see the awareness of how awful the AIDS epidemic was and educating those who aren't familiar with it.
Justin Lewis, an AIC graduate student and AIC's site coordinator for The Quilt display, has similar views.
"I feel it reflects the campus in a positive manner and we are extremely honored to host it," Lewis said.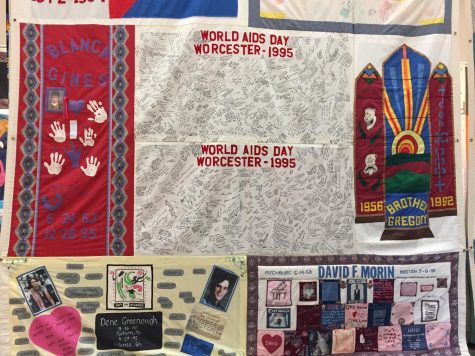 The NAMES Project Foundation is in charge of the displaying and handling of the Quilt. The Quilt actually weighs 54 ½ tons all together and is split up into 12 feet by 12 feet "blocks" of similar quilts. Each quilt, or panel, is three feet by six feet, resembling the size of the average human grave.
Over 1.2 million people lost their lives since the epidemic, leaving their loved ones behind. Families grieved but more and more quilts were made, incorporating precious items, favorite colors, and great pictures.
Overall, the sight of The AIDS Quilt is truly stunning and touching.
Madison Dube, a freshman at AIC, wasn't expecting just how grand The Quilt is.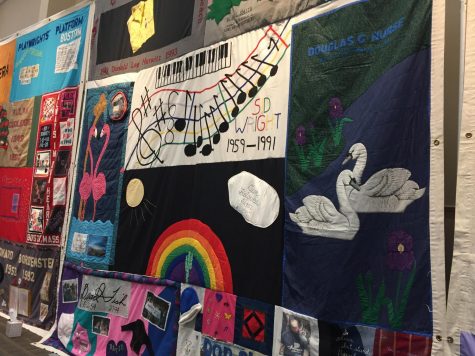 "I have never seen The Quilt before and I was not expecting it to be like this," said Dube. "I think it is so beautiful."
The Quilt is open to the public and is a free event. It is an amazing opportunity for those who want to learn more about AIDS and its effects on those who suffered.