Rugby standout Jihad Khabir shines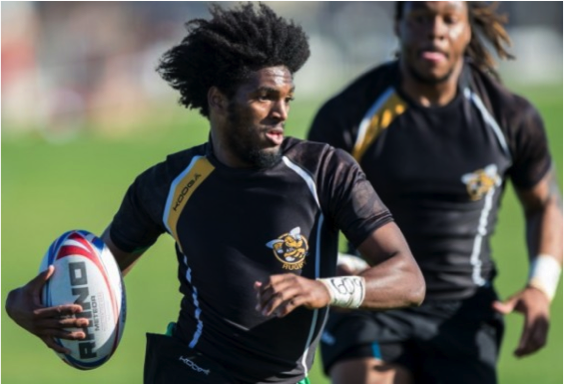 Hang on for a minute...we're trying to find some more stories you might like.
When you look at college sports, everywhere has a select few athletes that rise above the rest, and this is especially true at AIC. It is hard to be an athlete on campus and not know the name Jihad Khabir, a player who is a clear standout from the rest.
This 21-year-old senior from D.C. came to AIC to study Criminal justice and plans on going back home after graduation to help inner city kids. When he arrived on a rugby scholarship, he claimed it was secondary to school, but with all of his achievements he wants to see just how far rugby can take him.
With accolades that include 2015 and 2016 College Player of the Year, three-time Collegiate All American, three time All Conference, Yellow Jacket of the Year 2015, and Team MVP 2015, Khabir has been known to be a game breaker in the world of rugby. He consistently shows his talent on the pitch, and with scouts on the Olympic Sevens Rugby Team noticing him, Jihad has all eyes on him.
When asked about his success on the field, Khabir said simply it was "business as usual" and that he doesn't really look at himself as that player. He says that he just wants to make others around him better and for him it's not about the glory. "I don't focus on other people's opinions, I just want to get past college player of the year and do something more."
While he may be humble, others are not ignoring his play; in 2015 when Jihad came onto the scene, he caught eyes. After winning Dl men's college player in the fall, Goff rugby report wrote an article expressing how he felt towards him. "If you're looking for a player who sets the game on fire, Jihad Khabir is it." While this is very true, he not only sets the game on fire for himself, but his teammates as well.
Senior player and fellow captain Matty Jones plays closely with Jihad, setting up tries and supporting him well. These two together with their unselfish play are dangerous they have a bond like no other. "I have great connection with Jihad," says Jones, "I know what he is going to do before he does it, and that is why we're so successful on the field."
Playing at a higher level does not come without practice and dedication, something that Jihad found early on before AIC. Playing basketball, football, and rugby in high school, he took a lot of what he learned and applied it to rugby. "Basketball was a big influence on things like my footwork, stamina, and leadership. It also helped my wiggle and finesse in rugby." Playing so many sports growing up, he learned how to respect the other team and show sportsmanship no matter the result.
"Football brought on the attitude and ferociousness, that 'don't give a f—' attitude." Rugby is no easy sport, and having a wide skillset is essential to the game, and bring in everything he has is making him a force on the field. Jihad has also been called the fastest person in college rugby, and when it is brought up in another interview done by AIC Radio, he simply states "I just use my speed to my advantage." He says he used to like to juke but now he saves himself the trouble by just running on by you.
Playing all of these sports, he found that rugby was what he really enjoyed playing, and it was also the sport he was best at. Once he got the scholarship offer from AIC, that's when it really started to take over his athletic life. In college he started to become a well-known name, and with a supportive family at home, it only got better. However, being in the spotlight does not come with low expectations. Always having to live up to a standard can put a lot of pressure on athletes, but Khabir has found a good balance.
"I see my friends excel as well, so I set that standard all around. I try to be a leader and a role model on the field since people look up to me." Having been a captain in high school and now college, Jihad grows every year, and in his junior year at AIC, the USA Olympic Team noticed him.
"When I got the email I was watching the basketball team play, and I just had no words," says Khabir, "I just thought to myself, finally, I've been recognized for my hard work." He was proud and showed all of his friends, but there was still work to be done. With an email inviting you to play with the Olympic team as a scout, there can be a lot of emotions going around. Being invited to an Olympic camp means he could potentially play for the team during the Olympics, or make some connections and find a pro team in the US that could use another player. Nothing less than the best would do.
Excelling in college, Khabir says that the experience was definitely humbling. Known for his speed and agility, he wasn't feeling to pressured going in. "Carlin Isles smoked me right off the rip, and I questioned if I really belonged there after my first visit." Isles is known as the fastest man in rugby today, so having been outrun by him, Khabir knew it was really going to test his abilities.
However, being flown out to Chula Vista to practice with the squad two more times really helped him learn their system and become a better player. Once he returned back to AIC, it was clear he had learned a lot, and some of the connections he has on the field continued to grow.
A friend since childhood, Christian Adams is no stranger to success as well, also earning All-Conference and All American titles. Playing in high school together, the two are a threat on the field, and Adams had nothing but good things to say about Jihad. "It is like watching a butterfly evolve, you watch the transition to the top, and you sit there waiting thinking there has to be another stage after that," says Adams, "it's like reincarnation, but something higher."
Even though Khabir had torn his PCL earlier in the season, I asked him what he was looking forward to going into his last season at AIC, and that answer too was simple. "I'm just looking to get better every day," he says, "be a leader, control the pace, and outsmart people on both (offense and defense) sides of the ball." Not needing surgery as of right now, Khabir will do rehab for his PCL in his knee and should be back in just a few weeks.
It is clear everyone sees potential in the young athlete, and when you get all kinds of honors from college and an Olympic call, the pressure is on. Despite the high expectations Jihad says that he doesn't feel the pressure, he just wants to be his best.
"Jihad is a special player," says head Coach Rob Guiry, "He has used his time at AIC to the fullest and I'm confident that he will succeed at the next level."