Buzz Bash — celebrating 50 years of AIC radio
Hang on for a minute...we're trying to find some more stories you might like.
Dressed in all white, with flashing lights, live performances and cameras rolling, AIC Radio's Buzz Bash was a hit!
Taking place on a Saturday night, February 10 in the CCA, the celebration marked the 50th  anniversary of one the most powerful and influential organizations on campus: AIC Radio.
Doors opened at 9 p.m. but the full crowd poured in at 11, all ready to dance and mingle. The special guest performances were the hype of the night.
Former AIC Radio president, Jeremy "Austin" Fair, performed his famous song "Lebron" for the audience. His interaction with the crowd was phenomenal, as most of them were familiar with his songs. All while hopping on and off stage, and even on top of a speaker, he set the vibe for the rest of the night.
Former AIC student Malik, known as Lord Noble, also made a special appearance. His energy was amazing and involved the most dancing. The crowd huddled around him and his entourage as he showed off his dance moves. He performed several of his original songs and even did a special tribute to his friend Zoe, known as Gangstalicious who recently passed away, performing his widely recognized song "Making My Way Downtown." The crowd went WILD.
"AIC Radio's 50th year anniversary was successful all because of the student members of AIC radio," said Malik Webb, President of AIC Radio Club.
"With all the stresses from the administration, class, work, the world, and life in general, these students are amongst the most hardworking students I have ever worked with on campus, we still pulled it off," he added.
Aside from all the dancing and music, partygoers also enjoyed mixing and mingling with fellow peers. Students from different clubs, teams, and organizations showed up together and showed love to the AIC Radio family. Members of the women's softball team, women's basketball team, Student Government Association, Women's Organization and more came out and truly represented AIC spirit and unity.
A special shout out goes to Chartwell's Dining Services, whose party wings were the talk of the night. A mix of crispy seasoned wings, sweet barbeque, and flaming hot were the party favorites and devoured completely by the end of the night. Recognition also goes out to our campus police whose presence was strong at Buzz Bash, keeping everyone safe and secure.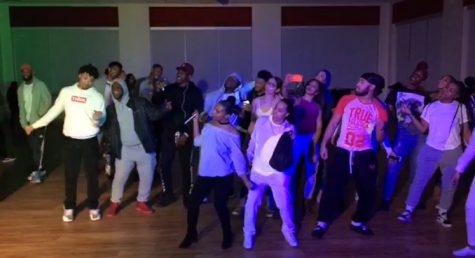 The party rocked on until 1 a.m., ending with the popular #NewFreezerChallenge trend from social media. The party gathered together for this last dance before filing out. The night was still young and there were more parties to go to.
"My favorite part of Buzz Bash was when the students came together to do the new freezer challenge and I want to push for future members of AIC Radio do more challenges like that to bring the school recognition," said Webb, adding, "we could go viral."
Buzz Bash is an annual dance party hosted by AIC Radio Club. This is its second year in the making and next year, AIC Radio promises to bring it just as hard. The radio club has a lot of opportunity for unity and growth for students coming from all walks of life.
There are many opportunities in AIC Radio Club for students to build a creative platform for themselves. With members specializing in different avenues like video, broadcasting, sound recording and more, anything that a student is interested in, AIC Radio can help them to expand and promote.
During this month of Black History, AIC Radio plans to do more events focused around social justice and social change.
"I promise to make sure AIC Radio remains one of the most diverse club at American International College before I leave," said Webb.
Overall, Buzz Bash was just the beginning of a beautiful semester. When AIC students were asked if they would be attending Buzz Bash next year, they all said YES!
If you are interested in being a part of AIC Radio or helping with one of their events, feel free to contact them through Engage or speak with the president, Malik Webb. This semester will definitely be ending with a BANG!