Expose a theory: Libyan slave trade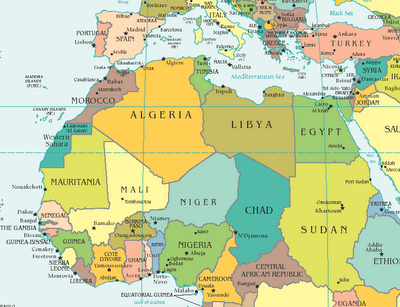 Hang on for a minute...we're trying to find some more stories you might like.
In the last week or so, social media has erupted with the discovery of a mass slave trade in Libya, Africa. Influential celebrities including Kevin Hart and Chris Brown have expressed their opinions on the epidemic which caused even more outrage by the citizens of the world.
Obviously, the people just want to know, how is this taking place in the year 2017? According to Time Magazine, Libya is the main transit point for migrants trying to reach Europe by sea, trying to escape poverty and following a dream that doesn't exist.
However, that can't be allowed.
The Libyan Coast Guard and other defenses shut the migrants down, capturing them and sending them to detention centers. Them being roughly 400,000 to one million Libyan people overrunning the centers. There's an abundant amount of theories on the way they were dealt with at the centers.
Conditions of the detention centers are dreadful, migrants are being sold in actual slave auctions. Those people are completely impotent to the brutality, and being held at gunpoint, forced to work.
It comes to show that there is some attempt to try and draw a close to the slavery in Libya.
As a world, we need all hands in to tackle this epidemic and take it as seriously as possible. This happening is deeper than the surface, in theory, continues the global outcry, and could possibly become the beginning of 21st-century segregation.
What's the United States doing to contribute to this? What are President Donald Trump's thoughts on the Libyan catastrophe? Where is the outrage? The predictions for these questions bring huge controversy.
AIC student Asyera Johnson shared her thoughts on the situation in Libya.
"Slavery is back, and it doesn't seem like an issue to our government. We already have a critical racial drawback, so it seems it's only a matter of time until segregation and slavery display again in the U.S. in an updated form," Johnson said.
Slavery is the condition in which one person is owned as property by another, and is in one's control, creating society changing outbursts, especially in the 18th and 19th century. Individuals of the world started to believe that slavery, segregation, and inequality were finally over and that ultimately we are coming to peace with each other as a whole.
Suddenly, in the black communities' "motherland", Africans are being enslaved and sold off.
How do you think the black community feels? In addition, those enslaved people had to be suffering this fate for a while, and we're just finding out about it as a world. Our society's attention span is blocked by other reports such as how Donald Trump is still questioning Obama's birth certificate, or even how Matt Lauer was fired for sexual misconduct.
Simultaneously, groups of innocent men are being auctioned off for $400, without us knowing. Social media is beginning to explode with posts about Libya to spread awareness because you can't silence the media.
People are able to post whatever they please.
With that being said, Mr. Trump always seems to expose his opinion on Twitter about NFL players kneeling for the flag, or CNN reporting fake news, yet where is a tweet or at least some acknowledgment of Libya.
Tyrone Richardson, principal of Betances STEM Magnet School in Hartford, CT, expressed his opinion by exclaiming, "Something deeper is happening. Anything that occurs Donald Trump has a response or some sort of defense mechanism. But when the biggest outburst of his tenure in office kicks in, there's not a peep from our government. Something is going on."
The black community already feels as if Donald Trump essentially doesn't care about black people, and is belittling toward them. So when there's an occurrence like this happens which is a repeat offense, hence slavery, how is the black community supposed to feel when the president remains silent on the topic?
Why is there no outrage?