Leaving the hive: a farewell to our YJ Editor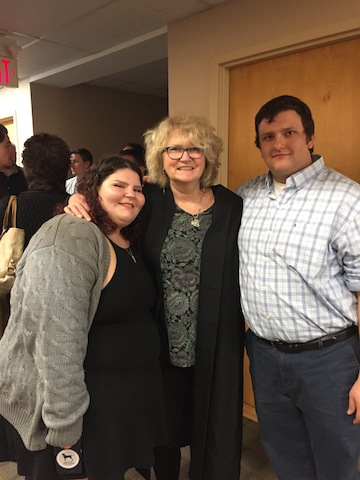 Hang on for a minute...we're trying to find some more stories you might like.
Robby Ollari, a senior Communication major, is about to leave AIC.
The talented writer became the Editor-in-Chief of the Yellow Jacket newspaper in the fall of 2015.
As his sister, I have seen him put many hours into this paper, as well as seeing how dedicated he is to being the Editor. If he isn't working on the paper, he is focusing on the rest of his studies along with his job.
Robby has spent a lot of time bonding with the AIC community, especially those in the Communication department.
Mary Ellen Lowney, professor of Journalism and Chair of the Communication Department, has worked abundantly with Robby over the last four years. Whether they were organizing the layout for the paper or working on a project together, they have become very good friends because of the paper.
"I met him as a freshman in the Journalism class," Lowney said. "He sat in the back and he was very quiet. He was always on top of the deadlines, and his work was always great. He just consistently impressed me and that's how he became YJ editor."
No matter where I am on campus, I am often asked, "how's Rob doing?" This just shows that even when he is not on campus, he is always being thought of.
Kevin Panetta, or "Moose" as he's more commonly known on campus, is always excited when Robby comes around. Robby and Moose have had spent a lot of quality time together, like sitting on the steps of the Hive chit chatting or just sharing a laugh.
"Robbo is one of the nicest kids I have met. He's done a lot for me here and he's always done me good. He helps you out no matter what," Moose said.
When asked what Moose will miss the most about Rob, it would have to be seeing him around.
"I'll miss his presence, I would see him and yell 'Robbo!' even if he was 100 yards away," he said.
Annie Norton, a junior, became close with Robby when she first came to AIC last year.
"I first met Robbo my first semester here at AIC. I was the new communications student, and though I was not shy, I didn't know a single student," Norton said. "Robby was one of my first dear friends, he helped me out with projects, he made me laugh with his dry sense of humor, and he impressed me with his amazing editing skills. I am going to miss his wisdom, bothering him in the mac lab, calling him Robbo across campus, and overall miss his humble energy on this campus. Robby is a rarity and AIC was lucky to have him."
Collin McQuade and Robby became close through their passion for sports while working in the Center for Student Engagement.
"I first got to know him working in our office for student engagement. He was a work-study and was working with me every day," McQuade said. "We would talk about baseball and sports and work on projects together, and we formed a strong bond. He is one of the first students I got to really have a bond with. He is the benchmark for what a student leader is for the rest of my career."
McQuade also noted one of his best memories was when he and Robby would play "baseball" in his office with the door closed, making the most of their downtime.
Now, we may have been in the same schools together for basically our entire lives, but this year was especially fun for me.
It was fun being able to go to college with my brother, even if some days I would try to avoid him as much as possible. We were able to carpool in the beginning of the year, though we would end up taking my car a lot because it was "my turn" (but it seemed like it was my turn pretty often).
I had an easy time getting adjusted to campus because of Robby and I was able to meet a lot of the Communication faculty due to the fact that our major is the same — because the thing I am best at, i.e. writing, he's 10 times better!
It is very bittersweet knowing my brother is no longer going to be in school with me and that we are truly growing up.
I did not feel like this when he graduated from high school. Now, it feels like the end of an era.
My brother is off to bigger and better things and I couldn't be more excited for him.
I really am not the person that gets sappy, especially when talking about my brother, but I felt it was necessary for this.
Thanks for always editing my articles to make them better and letting me take over the YJ.
Congrats, Rob!