Graduation, here we are and it's thanks to you!
Hang on for a minute...we're trying to find some more stories you might like.
Commencement 2018 is upon us, which means there's a wide range of emotions for the graduating senior class at AIC – happiness for those excited to turn to a new chapter and enter the real world; maybe some sadness and anxiousness for everyone not quite ready to dive into life outside of the structure that life on campus provides.
On a personal note, this year's graduation also signifies the end of my run as the Editor-in-Chief of the Yellow Jacket, a role which I have held since I entered my sophomore year.
This was my fourth school year working on the Yellow Jacket – three as editor, one as a staff writer during my freshman year – and I seriously loved every minute of it. I'm a Communication major – very interested in journalism, and I love to write, so this whole experience was a blast for me. I'm really going to miss my time doing this.
I am also going to miss Professor Mary Ellen Lowney, Publisher/advisor of the Yellow Jacket newspaper, and the Chair of the Communication Department.
Mary Ellen is the one who decided to hire me as the YJ Editor towards the end of my freshman year in 2014.
In order to fill the position, Mary Ellen easily could have selected a senior who was probably more well-known on campus and more outgoing.  Instead, she decided to choose a much lesser-known and somewhat-shy freshman who really didn't know a whole lot of people on campus at the time. And in the end, I'm really glad she made that decision.
For those who are not familiar with Mary Ellen Lowney, well, let me introduce her to you.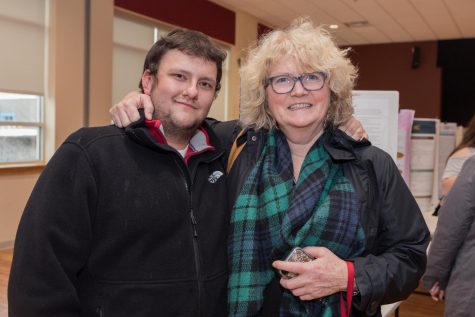 Mary Ellen Lowney is undoubtedly the best professor, teacher and advisor, as well as mentor, friend, and second mother I will ever have in my life. I may be biased, but she is my favorite person on the AIC campus. Mary Ellen knows her students in and out, and knows how to get the best out of each and every one of them.
Prior to her career as an enthusiastic and passionate college professor, Lowney spent 30 years as a newspaper reporter for the Springfield Daily News/Republican. Her long career on the beats in Western Mass. served her well – in her second career as a Communication professor at AIC, her time covering the Pioneer Valley news scene really helps illustrate the key points of the industry for her students interested in the field.
If you paid attention in Mary Ellen's class or had the opportunity to get to know her, for sure you know that she adores great journalism, she loves newspapers, she's an ardent First Amendment supporter, and even has a weird but hilarious obsession with cats (yes, she is a crazy cat lady — so please feel free to make fun of her for that if you ever see her).
No matter how busy she is on campus or in her personal life, Mary Ellen never seems to let any of it get in her way. She's dedicated to her job, and always gets the best of out of her students. She is 100 percent dedicated to each and every one of us.
I definitely did not love fighting rush hour traffic and making the drive in from Connecticut to make it in time for her 8:00 a.m. Intro to Journalism class during my freshman year – I still don't know why on Earth anyone would want to take or teach a class at that ungodly hour… BUT, looking back, I loved learning the ins and outs of the field from Professor Lowney, and loved hearing her personal stories from her vast experience as a journalist.
I was legitimately upset as for whatever reason I couldn't take as many of her classes as I grew older. Lowney is one of the most fun professors I have ever had – she's one who makes you feel important and a part of each and every lesson. (Note to current students – if you have the chance to take a class with her, just do it – you won't regret it, I promise.)
Mary Ellen Lowney may be a great teacher, but she's an even better person. I feel like I could talk to her about anything in my life, whether it's good or bad. She is one of the most approachable people I have ever dealt both on campus and in my entire life. I will never forget all of the fun times we have had together, whether just chatting in her office, or laughing over coffee or dinner, and so on. I will genuinely miss being able to see and work with her on a regular basis, and I hope we can keep in touch for years to come.
Throughout my years at AIC it was not uncommon for me to race down to Lowney's office after class, in hopes she was there sitting behind her desk so we could have some laughs and catch up, or just so one of us could vent about something. Side note: it also didn't hurt that her desk always has a basket full of candy for her visitors. And, for my sake, it was always a plus that there would be a private stock of King-Size Reese's Cups waiting on deck for me, hidden in her desk drawer.
I don't know if any of my friends or fellow students have gotten to know Mary Ellen Lowney on a personal level like I have over these last few years, but I can definitely say that she's my favorite professor and person that I've met at AIC, and I've never heard a negative word about her on this small campus.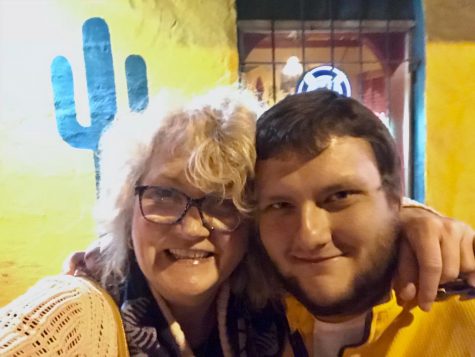 My friends and peers (especially fellow Communication majors) were always on the lookout for classes that she teaches – she has a way of incorporating her vast experience in journalism and public relations into the course material, and obviously, she is just one of the most down-to-earth, coolest professors you could ever have on campus.
Everyone I know who took a class with her absolutely loved their experience. In the end, I'm definitely kicking myself because I didn't get to take as many classes with her as I wanted, but I am really just happy I have built such a great relationship with such a genuine, authentic person.
I may be repeating myself a bit here, but Mary Ellen Lowney is the absolute best teacher I have ever had in my life. I wouldn't even consider her my teacher anymore – she is a lifelong mentor, advisor, friend and second mother, and I will never forget all of the sage advice, encouragement and boosts that she has given me over the last few years.
I just want Mary Ellen Lowney to know that she has made a huge impact on my life over the last four years, and that I will forever be in debt to her for everything that she has done for me. And I know I am speaking for each and every student who has benefitted from the passion and enthusiasm that she brings to her job each and every day — there are many students that can say the same as to her impact.
I'm sad that this is my last YJ entry, but I'm happy that I've decided to dedicate it to one of the best that professors that AIC has to offer.
Thank you, Mary Ellen Lowney, for all that you have done for me as a student as a person, and for all that you have done for every student that has passed through your classroom. You are the best – I'll miss working on the YJ with you, learning in your classes, hanging out in your office and gossiping about our daily lives, but I'll be forever grateful for the opportunities you gave me and everything I was able to accomplish under your leadership. I sincerely loved and am thankful for every minute that we worked together on the Yellow Jacket — I will take everything you taught me in class to heart, and I will forvever cherish every piece of advice that you have given to me.