Yellow Jacket wins national award!
The Yellow Jacket, AIC's student newspaper, has picked up a second-place award from the American Scholastic Press Association.
The 2018 Scholastic Newspaper Award, under the category 'Colleges and Universities with Enrollment of 2,501-Plus,' came just in time for the YJ staff to celebrate at the end of the semester.
YJ Editor-in-Chief Robby Ollari said the staff deserves recognition for a year of hard work creating content – both stories and photographs – for the monthly editions he oversees.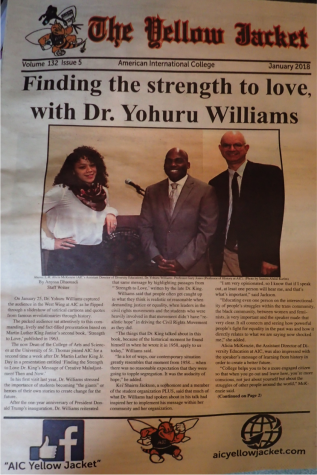 "I'm so excited that the Yellow Jacket received second place honors from the American Scholastic Press Association. This is definitely an honor, and one that took me by surprise," said Ollari, who is graduating after four years of hard work.
He will soon have a bachelor of arts degree in Communication.
"It's always nice to be recognized, so all of the credit goes to our hard-working team of student journalists and our faculty advisor. Now we can refer to the YJ as an "award winning" publication — that sure does have a nice ring to it," he added.
"This is an accomplishment that can never be taken away from us, and goes to show that all of the effort and time spent working on the Yellow Jacket over the last three or four years truly paid off. We couldn't have received such an award without the dedication of all the YJ staff, as well as the ongoing support and readership from the campus community," Ollari said.
YJ Publisher Mary Ellen Lowney agreed, noting that Ollari himself has put in the hours and effort that make the newspaper shine in each edition. Besides overseeing the staff, he edits stories, lays out the print paper, and puts up most of the stories on the website.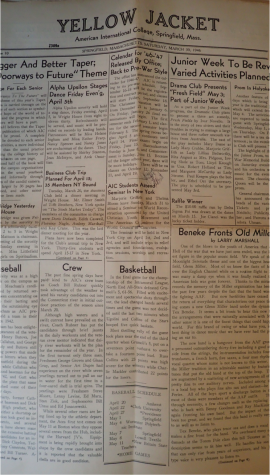 Besides a print run of 300 copies, which are distributed around the campus as soon as they come out, the YJ is online, at https://aicyellowjacket.com/.
"I'm so proud of Robby and of the entire YJ staff for the work they have done this year. It's really paid off with this national recognition," Lowney said.
The Yellow Jacket has been around for nearly a century, with content from students in the Communication Department majors as well as across the campus.
For example, for the past two years, graduating senior and sociology major Jazmine Baehr has contributed a column in each issue titled 'What Grinds My Gears,' in which she details her pet peeves. The most recent issue features her writing about being a graduating senior in college.
Other regular contributors this academic year have included Ollari, his sister Amber Ollari, a freshman, Samira Abdul-Karim, Andrew Bernucca, Kayla Clark, Anyssa Dhaouadi, Yasmine Graziani, Johnnie Johnson, Shaneisha Jones, Erin Stalker and Sydney Thompson, along with occasional guest writers.
A hearty congratulations also came from Dean Susanne Swanker of Business, Arts and Sciences at AIC.
"That is such great news," Swanker said.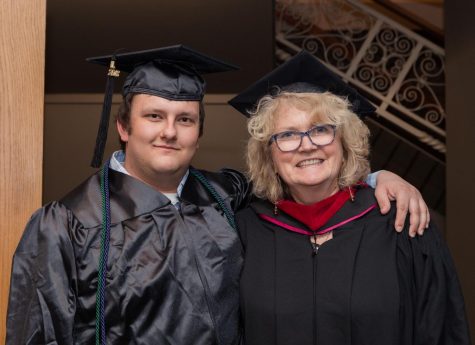 The competition included judging on layout, photographs and art, and content.
Ollari said the award is a nice sendoff as he graduates from AIC and begins a career in the legal field.
"Although I am graduating and won't be able to work on the Yellow Jacket any longer, I'm still very proud that we received recognition from the American Scholastic Press Association, and I hope that AIC is proud of our work as well," he said.