Bruins make the shots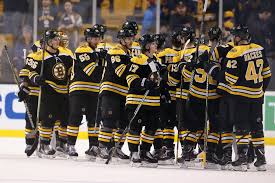 BOSTON- Coming off a very strong 2017-2018 campaign, the Boston Bruins are looking to build off last years season and dominate the Atlantic division.
There a few key pieces that must happen this year in order for the team to have success and have strong playoff hopes.
First off the team last year had very good special team numbers and in order to have a winning team again this year they must produce the same numbers on the power play as well as the penalty kill. The Bruins also had one of the strongest road records in the league last year going 22-12-7.
A few key pieces to the team this year will be essential if they want to have success this year. The young players such as David Pastrnak, Torey Krug, Danton Heinen, Jake DeBrusk, as well as Charlie McCavoy must have stellar season to see this team succeed. David Pastrnak has increased his point total in each of the past two seasons, including an NHL career high 80 points (35 goals, 45 assists) last season. He was plus-10, led the Boston Bruins in power-play points (26) and finished tied for 10th in the NHL with 13 power-play goals.
Past, who finished among Stanley Cup Playoff leaders with 20 points (six goals, 14 assists) in 12 games.
The team is going to look to what some teammates call him "Pasta" for short for more offense this year and to carry them into the playoffs again.
Arguably one of the most disliked players around the league happens to be one of the strongest players for the Boston Bruins. Brad Marchand has had a bunch of incidents where he mad a dirty hit or has said or done uncalled for things in the past few season. One of which includes Marchand licking a player on the Toronto Maple leafs last year late in the season.
Besides all of his antics on the ice all of his teammates couldn't say a bad word about him and love him on their team.
That being said he backs up his talk with his numbers.
The left wing had 85 points, tying his NHL career high from the previous season, despite being limited to 68 games. He scored 34 goals and had 51 assists, his third straight season with at least 34 goals.
Marchand has been plus-21 or better in six of his past eight seasons, and factors in on the power play (23 PPP) and penalty kill (four shorthanded points). He's also had at least 63 penalty minutes in each of the past five seasons and has greater value in PIMs leagues compared to ones with hits (37 last season; 0.9 per game in NHL career).
If Marchand plays with discipline (suspended six times in NHL career), he is looking to have a record-breaking season.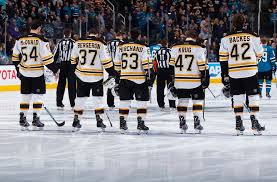 On the back end the Boston Bruins are looking for offensive support from Torey Krug and Charlie McAvoy two young defensemen with tremendous upside to their games. Charlie Just finished his rookie season where he came right from Boston University where he played one Season with the Bulldogs.
Charlie will look to add more offense this year if he stays healthy. The 20-year-old had an impressive rookie season with 32 points (seven goals, 25 assists), a plus-20 rating and seven PPP in 63 games.
McAvoy missed time with a knee injury and a heart condition, but could score 50 points if he remains healthy. McAvoy's PPP and SOG totals (77) would improve if he gets more first power-play usage.
There is a lot of hype around this team and we will find out what this years team is made of when the season kicks off this Saturday when the Bruins travel to Calgary for their first pre season game!