AIC honors veterans
In a ceremony marked by both joy and solemnity, veterans were praised and honored for their service to country in a ceremony at AIC on Nov. 12.
Veterans Day was first celebrated to mark the end of World War I and was called Armistice Day. It has traditionally been held on the 11thday of the 11thmonth to note the official end of the war, but in recent years is celebrated on Monday when the holiday falls on a weekend.
In 1954 it was renamed as Veterans Day to honor those who served their country and died.
Veterans Day is the day we celebrate the men and women who gave their lives for this country and to celebrate those who survived the wars and work to bring peace to the United States. Veterans Day is also the day we say thank you to all those soldiers who protect us and risk their lives to make America a safer place.
At AIC, veterans, alumni, students, faculty and staff came together and celebrated.  The entire AIC Hockey Team also attended the ceremony.
The ceremony opened with a presentation of Colors by the Junior Air Force ROTC, and a welcome by Kenneth Geronimi, AIC 1968 and 1972 graduate and a U.S. Navy veteran with the 101stAirborne unit. The Pledge of Allegiance was led by SGA President Taylor Campos, and an invocation came from campus Ministor the Rev. John McDonagh.
Keynote speaker was AIC Campus Police Sergeant Richard Alexander, a Springfield native and U.S. Army veteran with the 759thMilitary Police.
He went to college on the G.I. bill and enjoyed a distinguished career as a police officer and investigator, first in Hampden and eventually in Scottsdale, Arizona. He came back to Springfield after retiring and now works at AIC.
"I have come full circle," Alexander said. "I can never repay what this country has given to me.
"As a community, we need to remind ourselves and others how important veterans are to us. A simple 'Thank you for what you've done for this country' to veterans you know will go a long way," he said.
Every fall semester AIC holds a Veterans Day celebration. It was held in Campus Center Auditorium, from 11 a.m. to noon. In attendance was AIC's President, Vince Maniaci.
We celebrate Veterans Day for many reasons, one is to pray that our relatives will come home safe.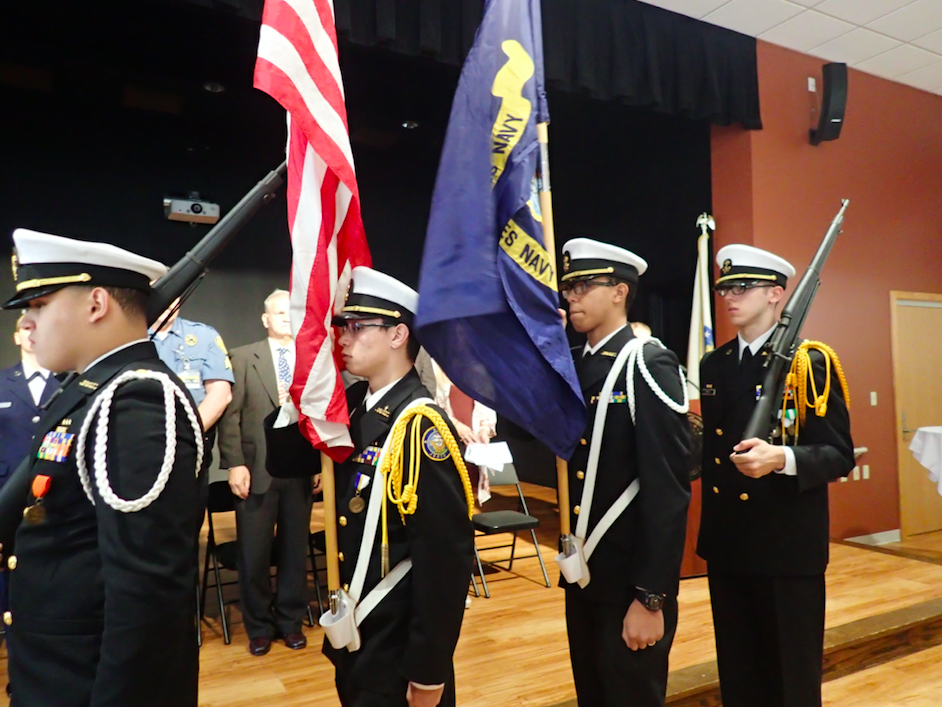 Many people attended the event. From doing research and asking question, a lot of people enjoyed the ceremony.  People stood up for the national anthem and also said the pledge of allegiance.
Some of the alumni spoke about their time in the military. After leaving the military they came to AIC to further their studies and obtain a degree.
A lot of pictures were taken. They served hot coffee, tea, and other beverages.
AIC junior Malik Thompson said this is his first time attending the event at the college.
When asked if he would attend next year, he said yes he would support the Veteran's Day ceremony again next year.  He said he came to this event because veterans stand for the flag of the United States and his uncle is a veteran who also served in the military.
"Veterans Day is the day we celebrate the men and women who were in World War I and World War II," Thompson said.  "This special holiday is to thank these people for making America safe."
AIC student Jake Wallace this was also his first Veterans Day event on campus.
He said he did not know much about Veteran's Day but he did know that we are supposed to stand up for the flag, the Pledge of Allegiance, the National Anthem, and our people who serve for our country. He said he did not know anybody in the military.
"It was a great experience and I will definitely attend next year," he said.
The ceremony included a reading of an essay by AIC freshman Cameron Fitzgerald about the meaning of Veterans Day.
At the end of the ceremony, pictures were taken of the speakers with a wreath displaying our country's colors. This event will be held again next year on November 11th.