AIC Men's Rugby Conference Championship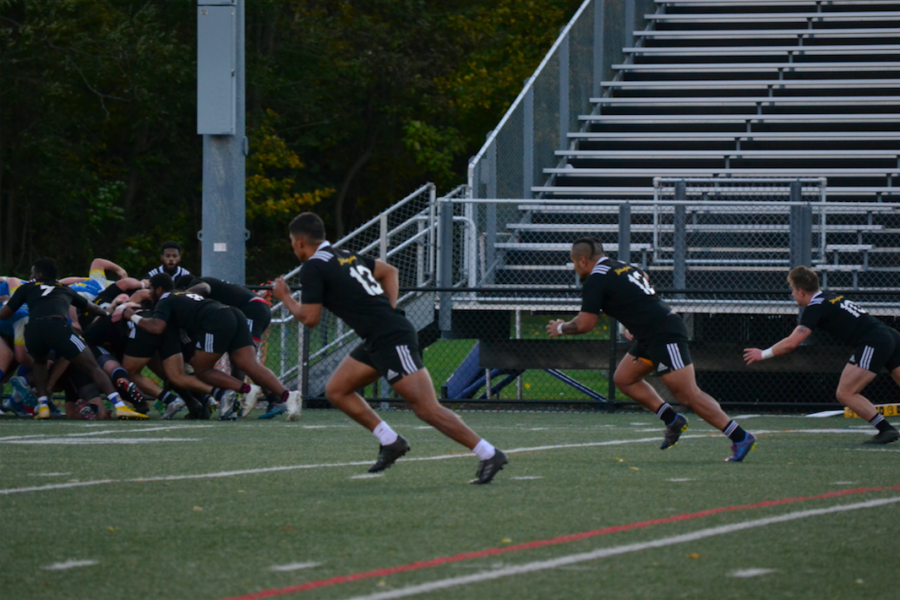 American International College Men's Rugby have had a long season so far with injuries, new coaches, and just basic small numbers.
The men's Fifth-teen's record so far is five strong wins, one tie, and two hard losses.
Overall, this season is coming to an end. This weekend Saturday, November 17 at Fairfield, Connecticut. The men will have they're chance to win the Conference Championship Bowl.
They will be playing University of Massachusetts. It's a team they have beaten every year, in the past four years. So, this game will defiantly be a challenge to see if they can make it a win once more.
This past weekend on Saturday November 10, they received a big win against Syracuse University leading them to qualify for the Conference Championship Bowl game. So, for this upcoming game they have a lot to work on.
With the new head coach as an alumni of AIC, Cory Lyndon Momsen, he has had a long season as well with the transition and all.
"It is very difficult especially training guys that I used to be teammates with, but I feel that my players respect me and what I've accomplished here and after AIC that I feel we're all working together," said Coach Momsen.
With the season coming to an end there were a lot of struggles but were there any triumphs?
"I feel that this season was a learning session for both players and coaches, but working together we we're accomplishing so much and finding more each week of our strengths and weaknesses," said Momsen.
"Being able to make the conference championship after being written off at the beginning of the season," said freshman Shane O'Brien.
"The greatest triumph of the season has yet to come. Ask me that question after this Saturday," said Cristian Ortega, who is a senior.
With this team you can tell they put a lot of time and dedication in the sport they play.
"Man, we practice about 7 hours a week. That's just rugby. As a team we lift two hours a week. We have a team meeting 1 1/2 hours a week. And we play an 80 min match. Individually is different for guys but I know some guys put in the work during the after-hours. That work shows on the field," said Ortega.
Some goals that the men's rugby team has for this upcoming game are:
"Some team goals for this game are spreading out on defense, coming up as one unit, improving our counter attack defense, and playing all 80 minutes. An individual goal would be to try and be around the ball as much as possible on defense. Defense wins games and mine needs to be at the best it can be," said Ortega.
"As a team, I know we can display better offensive structure and urgency on defense. We also just need to have everybody on the same page and in sync going into the championship game because this game can really uplift this program again," said junior Tommy Hunkin-Clark.
Some of the players even have before game rituals.
"Some teammates pray, I usually listen to Brian Dawkins hype up speech before a game," said O'Brien.
"Yeah my ritual is to go to the corner store the night before. I buy some chips and some candy. Then I head to my room and watch some Netflix and rugby. I like to relax the night before and keep my mind away from the game. When I wake up the next day, I'm locked and loaded," said Ortega.
This finale game of the season really means a lot to these players with all the preparation with training, rituals, and goals you can truly see these men want it.
"This game means everything in the past 4 years to me. This might be my last 15s game with AIC so I want it to leave a good taste in my mouth. What better way to leave the game than with a championship?" said Ortega.
"This Championship bowl game means a lot to me because this game can bring AIC rugby program, up again. We haven't had the best team performance yet, but I know we can get this team back on top where the alumni had left it," said Hunkin-Clark.
The future for this team looks bright.
"The future is endless, I see this program being a powerhouse for years to come, and the standard for collegiate rugby once we keep our core values in line," said Coach Momsen.
Hope the AIC men's rugby team wins and go Yellow Jackets.