Review: The Hate U Give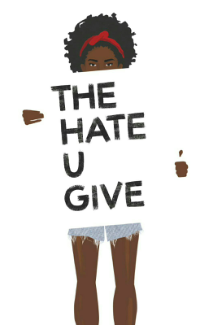 A film that has been raising a lot of buzz around the nation is the new film, The Hate U Give.
The film is based off the same-named novel written by Angie Thomas. Many people around the AIC campus have enjoyed the movie; but some feel like the film does not do the novel justice.
The Hate U Give can be described as an emotional rollercoaster and very political.
The film stars Amandla Stenberg (Hunger Games) and KJ Apa (Riverdale). Amandla, who plays Starr in the film, is trying to navigate her life between living in the "hood" and going to a predominately white school.
The film illustrates the life of an African American family growing up in a poor community, being a little more well off than most of the residents in the community but this community still exposes this family to gun violence, drugs and things of that nature.
Starr's parents, played by Regina Hall and Russell Hornsby, try to teach their children certain safety precautions because they feel police brutality is at an all-time high. They also work hard to send their kids to the best school around which is why all their kids, three, ended up going to the predominantly white school outside of town.
Starr ends up finding love with Apa's character, Chris. So, she not only hides her white friends from her African American community, but she is also hiding her community from the friends she has at school.
The controversy of the film, and in America, comes when Starr and her friend Khalil are riding home from a party and are stopped by a police officer. Khalil ends up being shot by the white police officer because the officer had mistaken Khalil's hair brush for a gun.
It brings up the conversation about police brutality and we, Americans, see this conversation being brought up very often now because of what we see on the news, social media, and now books are being written about it.
The types of conversation that the filmmakers want people to start discussing can lead into a conversation topic about Colin Kaepernick, why he was kneeling, and all types of opinions on how we must handle this issue as a country and there is also a side where many see no issue at all.
One of the most important statements in the film is "The Hate U Give little infants Fs everybody". That statement comes from the concept of Tupac Shakur's THUG LIFE. The statement is said multiple times throughout the movie and it really makes the viewer ponder on the meaning of it.
Many critics have given this movie high ratings. Rotten Tomatoes gave this film a 96%. It received a 4 out of 5 on Common Sense Media. Also, a lot of AIC students gave it a high praise.
However, some AIC students were not too pleased with the movie saying it was "okay, but lacked the background buildup of the characters. The book was much better."
AIC junior Rashana Siders gave the film a mediocre grade, saying it was "alright. It wasn't bad."
Not very good reviews, from some, for a movie that is supposed to shed light on a very important topic that has been going on, for a while now, in this country.
It is a very powerful film and should be seen by everyone just so people are able to form opinions for themselves. The film was released October 19th and, according to Box Office Mojo, it has brought in over 29 million worldwide.