AIC Baseball, ready to play
Hang on for a minute...we're trying to find some more stories you might like.
After a season of up and downs, the AIC baseball team is preparing and getting ready to travel down to its first game of the spring season.
That game will bring the team to Pennsylvania on March 1, for a fresh start against East Stroudsburg University.
In 2018, the team surpassed expectations given by the NE-10's (conference) coaches poll. The team finished tied for 4thplace in the Southwest Division. After being picked to finish second to last, the team was just one win away from entering the playoffs for the first time in four years.
Although the Yellow Jackets showed signs of success, they were yet again picked to finish second to last in the 2019 season, even after beating teams that were picked ahead of them; not to mention some very impressive and notable wins.
The Northeast-10 failed to recognize the wins over nationally ranked teams such as, No. 6 New Haven & No. 15 Le Moyne. They also failed to recognize the Jackets' win over regional champion Southern New Hampshire which made the World Series. AIC also had more total wins (19) than the team that made the playoffs in 2015.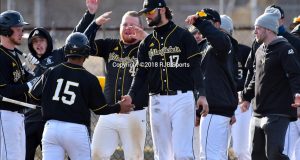 The Jackets have comeback even stronger after losing only one veteran in Jason Coscio, a sixth-year guy that had a big impact on the team. Head Coach Nick Callini said, "It's a tough group of guys," when asked about who this team is.
This team battled through tough losses and injuries.
The team is now relying on both young and veteran guys to step up to the plate. There will be many young guys who will have key roles in the team's success this year.
"We have a lot of underdog guys who you wouldn't expect to rise to the top," said AIC junior Matt Costanza as he acknowledges that this is a team and a team is whole when everyone expects the same out of each other.
The freshmen have really bought in to last years "culture change" and have a close-knit foundation in its core.
So close, that the team took a step back as a whole and recognized that a brother of the team, Eli Vazquez was diagnosed with Hodgkin's Lymphoma.
The way the team reacted is what makes this team overachievers which is what has been preached to the team all year.
"It was immediately, what can we do for him? Let's put all these things together" along with "All of our guys are rallying around him, to support him" said Coach Callini.
A desire to win is what will help this team battle every contest and it starts off the field. "For us it's not just about baseball, it's about making AIC a better place," said Callini.
Notice where the baseball players sit in every class. Try to notice when you walk passed them, what do they look like? Are they upset, or can you not tell at all? Notice how polite and mannered they are and compare it to every other person you walk by. It's the culture that has been preached to them by the baseball coaching staff.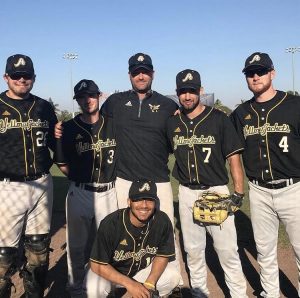 Lastly, the Yellow Jackets are looking forward to their first game against East Stroudsbourg as its first battle on a journey to finish at the top.
The "Road to Cary" won't be easy but the team is ready to take on the challenge. "The end-goal is to win a championship" said Coach Callin.
The team expects that same outcome.