We're still here: the dynasty lives on
Hang on for a minute...we're trying to find some more stories you might like.
The Patriots rule, again.
The New England Patriots knew going into Sunday nights Super Bowl 52 it was them versus the world once again. For the second time in three years and 6 times since 2002, the Patriots were victorious to be crowned world champions again. The Patriots won in a defensive battle 13-3 where both the LA Rams offence and Patriots were at a standstill. The Pats rallied late in the 4thquarter, where Tom Brady drove the ball 69 yards with a bomb of a pass to Gronk and then rookie running back Sony Michel capping it off with a 1-yard touchdown to give the Pats a 10-3 lead. Stephon Gilmore sealed the win with a clinching interception at the Patriots 4- yard line off a Jared Goff pass.
It was a night of records as the score of 13-3 was the lowest scoring game in Super Bowl history surprisingly with two of the highest-powered offenses in the league going at it.
Quarterback Tom Brady once again showed that age is just a number.
Brady capped the night with his 6thSuper Bowl win to once again reinstate that he is the "GOAT" (Greatest of All-Time).
It wasn't the greatest numbers game for number 12 throwing for 262 yards, 21/35, and 1 interception.
Though the numbers weren't his best, Brady was good when had to be throughout the game — especially in the fourth quarter on a 69-yard drive that led to the Patriots only interception of the game.
Brady recently stated in an interview with ESPN saying, "I'm not a big stats guy. I'm into wins."
And number 12 has certainty proven that it is all about winning making this his 6thsuper bowl wins in 9 attempts.
The clutch performance of the night had to be from number 11 Julian Edelman.
Edelman was named MVP of the Super Bowl after catching 10 passes for 141 yards in his third Super Bowl after missing the whole 2017/2018 season with a torn ACL and not being able to play in last year's Super Bowl loss vs. Philadelphia. Edelman's performance in playoff games through this Super Bowl run was incredible and one that inspired kids all over the country who are told they are too small to play a sport.
A local Patriots fan from Boston and a junior at AIC, Luke Jones, stated "This Super Bowl I think is one of the sweetest for Patriots fans. Everyone shamed us all year long and we finally did it and proved everybody wrong."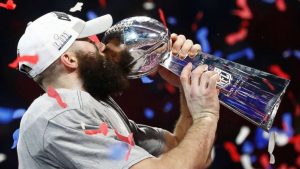 He added, "We will keep going and I believe that we will be back again next year."
TB12 and MVP Julian Edelman will both be back next year and don't seem to be slowing down. They can and will have a team that will compete for another championship next year and with Tom Brady and Bill Belichick together there is no limits on what they can do.
Enjoy another championship Boston and keep proving New England that 'We're Still Here!"