Meek Mill has a new album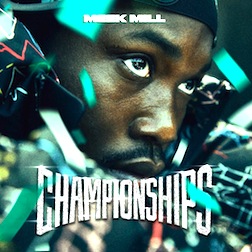 Hang on for a minute...we're trying to find some more stories you might like.
Since coming into the recording industry, Meek Mill had a lot of hits, but his recent album dropped called "Championships" has struck a whole new level and style.
The background for this album has to do with him recently getting put into jail because of riding dirt bikes, he said. His album talks all about how being in jail affected him, and his family, as well as growing feeling like young black men are targeted because of the color of their skin, which unfolded in the song "What's Free" by the infamous JayZ, and Rick Ross.
On this album, Mill also showcases the different styles of music he can rap to. As far as reaching out to the Latin American side, playing with different styles of music when he does the song "Uptown Vibes" by Anuel AA and Fabolous. He then even touches the R&B soul of people and does the song "24/7" by Ella Mia.
Meek Mill incorporating the love song type feel into his work made a whole new crowd of people including the reggae type feel with the "Uptown Vibes" song as well.
AIC students are giving the new album as well as the hit song a thumbs-up.
Freshman Gisel Lopez is one.
"The song honestly speaks volumes," she said. "It's something that I can bump to while still listening to knowledge being portrayed out in every single song on the album."
Freshman Gabriella Santos spoke to the whole album.
"I like how he made the album culturally different, it wasn't just rap, it was a mix of funk, pop, reggae, and a lot more. He's a genius when it comes to this stuff," Santos said.
Ciarah Richardson, also a freshman, said, "It took me a while to actually feel the music, just because I didn't know his message across the album, but I understand that he was telling a story and I like I actually sympathize with him."
Overall, it feels as though Meek Mill tapped into a whole new realm of music especially for him which touched a lot of people and made him gain a lot more people into his fanbase.