VDA lab opens to admiration, awe
Something new and creative is brewing in the Communication Department – the Art & Innovation Lab, in KS115, just off the West Wing Gallery.
Communication Professor John Nordell, who runs the Visual & Digital Arts major, is overseeing the new classroom that fits 20 students, and includes classes with a focus on art and creativity. This semester that includes Cultivating Creativity.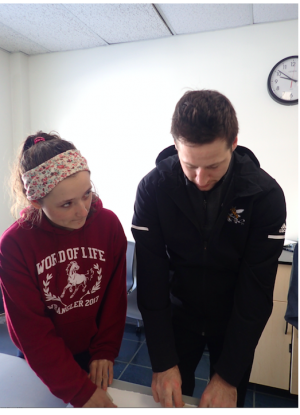 Prof. Nordell has a great background for the work he is doing.
He has been working at AIC for seven years, first teaching a Digital Photography class and expanding from there. Before teaching here he was a professional photojournalist traveling the world taking amazing photos.
Photojournalism is taking photos for magazines and newspapers. He has taken photos for Timeand Newsweekmagazines and done photoshoots with Run-DMC. He has traveled to South Korea, Panama, Russia, Japan, India and more.
He worked as a professional photographer for about 20 years, then taught at a photography school for five years. He also later, became a certified Zentangle teacher, a skill he brings to his VDA classes.
At that point, he said, "I then got my masters and taught photography here and slowly worked here full time."
He graduated from Fitchburg State University with his master's in artseducation. Prof. Nordell was raised in the Boston area and is now living in Greenfield, Massachusetts.
Prof. Nordell put much time and effort into creating the new VDA major.
"The top academic officer asked me to come up with some kind of art major," he said, with the two working together on it until the officer left the college.
"I worked with Dean Susanne Swanker on developing the major, figuring out what courses to teach," he added.
Professor said she was very helpful and stayed his number one supporter here.
Prof. Nordell also told an amazing story that "Just this Fall, our first VDA major graduated." He agreed that it was a great moment to see.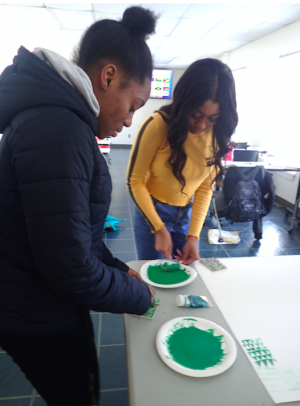 "We [AIC] are always looking to expand our offerings to attract more different types of students," he noted.
"A year before I got here, they hired Prof. Frank Borrelli to run the Theater Department," and now they work together to blend theater and art, whenever possible.
At the same time, the college has been building up the Theater Department.
"They wanted to boost overall the amount of arts on campus," Prof. Nordell said. He and other VDA instructors have been teaching courses such as Cultivating Creativity, Business Know-How for the Entrepreneur, Digital Storytelling, Graphic Design I and II, and Art and Culture: A Global Look, to support the major.
Prof. Nordell said the need has grown for a classroom space for VDA students.
Prior to the new lab opening in January, the Cultivating Creativity classes were run in a Chemistry Department lab.
He liked it for the lab setting and the many sinks in the room, but he realized that his program needed its own home.
Locating and preparing the lab was a collaborative effort with Dean Swanker and others at the college working hard to make it happen.
"Dean Swanker worked very hard behind the scenes to secure that room for the Visual and Digital Arts program," he said.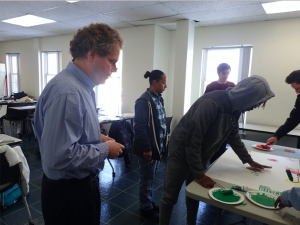 The new lab is in the Sprague Cultural Arts Center in Room S115.
What does he love about the new classroom?
"I'm just excited that I can move the tables around," he said. "I just love the creativity from a student who suggested that we sit in the adjacent West Wing gallery to share our art. I hadn't even thought about that possibility."
He said he finds it obviously fitting since the class is already about creativity and creating art.
Prof. Nordell said that the classroom having north-faced windows creates more light coming in, the classroom has a lot of space, and the location is "really nice".
"In the future we are going to add 3D printers and other tools and supplies. Beyond just being a classroom I hope it will be a hub for creativity," he said.