AIC's Shiane Wilkins talks publishing her first novel, Amazona's World: Lizbeth's Chapter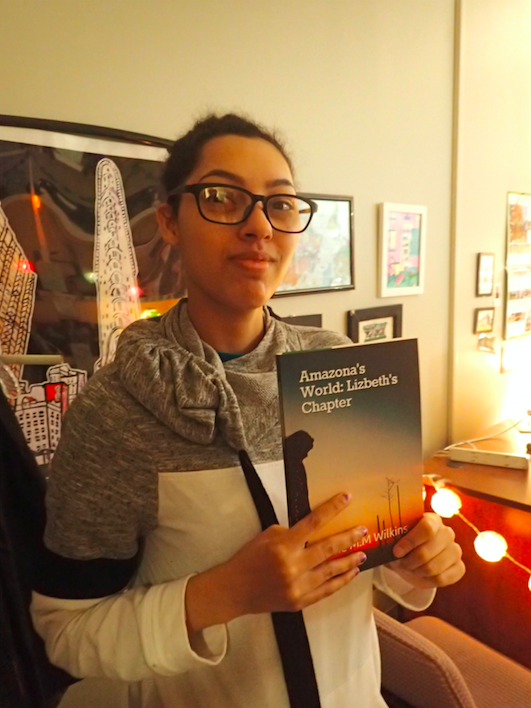 Shiane Wilkins. AIC senior, self-proclaimed anime-lover, videogame enthusiast and now… self-published author.
After a decade long of waiting, the American International College Senior has finally been able to live out her lifelong dream of having her novel Amazona's World: Lizbeth's Chapter available to the public, thanks to Amazon Publishing. Amazona's World: Lizbeth's Chapterdives into the sci-fi-fantasy world of, young protagonist Lizabeth as she battles with her amnesia all whilst the fate of the universe resides in her hands.
The YJ got a chance to sit down with Shiane, a New Media major, and interview her about her novel and discuss her feelings of being a newly self-publish author.
Ketirah: Congratulations on publishing your first novel! How does it feel to be a self-published author?
Shiane Wilkins: It feels awesome to know that I accomplished something this big. And to know that this novel is something that I have worked hard on and I have something to put on my resume is great. Publishing my novel has been a dream come true and to have the support of my friends and family has been amazing. I hope that me doing this has inspired my siblings to know that they too can achieve their dreams if they work very hard.
Why did you decided to create this novel?
Well, I've always like to write. I've been writing my own books for years now. I have many books that I've written and have never published till this day. I just find writing so fun! Keep in mind that I've been writing before the internet got popular. I remember going to school carrying around a pen and notebook, filled with all my stories and ideas. I loved writing so much, that all I wanted for my birthday and Christmas was paper and pens.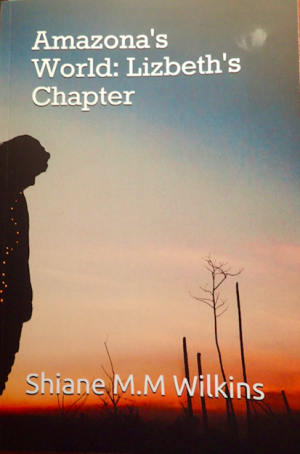 Where did the idea for your novel originate?
Well, I play a lot of videos and watch a lot of anime. So, I just combined all my ideas together from my favorite videogame, Kingdom Hearts and my two favorite anime series Shugo Chara and Soul Eater.
How has your environment/upbringing effect your process of writing?
The town that I live in is very country like, so often times I was bored. I would always spend my time walking around or in the library reading for hours. When I wasn't doing either of those things, I'd play videogames and watch anime and I think that's how I was able to become creative and think of these very sci-fi-fantasy based ideas.
What was your writing process like?
The writing process for this novel was A LOT. I began writing this book in middle school. I went through at least three writing drafts, which all had different story ideas. I ended up going with one of the ideas, and it turned into Lizbeth's Chapter.
How was the editing process?
The editing process was the hardest process. It felt as though the process was just dragging on and on because the story was so long and I wanted to add so many things, so that really slowed down the process. Also, small things such as adding punctuation was a slow process too, but I just kept saying to myself, "Am I done yet?"  I used Grammarly to help me edit, it really helped me with my grammar and vocabulary for my novel.
How long did it take you to write this novel?
I started writing this book in middle school… but I took a break from it. I started writing this book again around the same time I began college. I would say it took two-years for me to finish writing this book. It normally takes me a VERY long time. I say this because other things take up my time. I'm a college student so assignments take up most of my time, but I try to spend at least two hours a day writing.
So, you took a break from your novel, was it because of writer's block? Or do you not subscribe to writer's block?
I definitely believe in writer's block. Usually how I get through writer's block is by moving on to a different story. I leave, go outside, go on an adventure, or watch tv. I try and find inspiration through those things.
What made you want to publish your story after all these years?
I learned a lot from college and all the English courses I have taken here. All the things that I learned in those English courses helped me to improve my writing. College really gave me the push I needed to publish my book and the confidence to market my book on many platforms including Amazon, Facebook, Instagram, and YouTube. College also helped me to discover Amazon Publishing, which was easy to use and inexpensive.
What makes your novel stand out from others on the market?
I would say that my novel showcases a female leader, which I believe is something that should be seen more often in novels. It also isn't your typical novel as it does not include any romance as it is more adventure centered. I hope that my novel inspires people to get out there, explore the world and go on adventures.
Any interesting facts you'd like to share about your novel?
Well, for my character's names I named them after fictional characters that I really loved growing up. For example, one character in the novel's name is Alice. I named her after Alice in Wonderland which I am a HUGE fan of. Another character is Alex. I name him after Axel, which is a character from the videogame called Kingdom Hearts, which I absolutely love. Another fact I have about my book is before I started writing this novel, I drew out each of the characters, so that I could have a grasp on what I wanted their names to be, what they looked like, and how I wanted them to sound.
What's your favorite underappreciated novel?
That's such a hard question, but I'd have to say The Third Twinby C.J. Omololu. That book really kept me on my toes. I never knew what was going to happen and even when I thought I had an idea of what was happening, I was wrong!
What advice would you give your younger self?
I would tell my younger self to just keep writing and not to get discourage by the number of pages I have written because you can always build on it. That stories don't all turn into novel, sometimes they become short stories, like the Goosebumps series.
What advice do you have for aspiring writers?
I would say don't give up. This book technically took me years to write and now look at how far its gone. It's published. I'm an author! Don't stop at your first draft ever, even if you don't like it keep going and try a different direction, go on a different path and see what works for you.
What can readers expect from you, now that your novel has been released?
Readers can expect answers from this novel to be answered in the next books. The next books will be written in the different perspectives of other characters.
Amazona's World: Lizbeth's Chapter was released on January 29thand is now available worldwide.  Amazona's World: Lizbeth's Chapter is available for purchase on Amazon at the following link: https://www.amazon.com/Amazonas-World-Lizbeths-Chapter-Amazonians/dp/1794562788/ref=redir_mobile_desktop?_encoding=UTF8&qid=1548723440&ref_=tmm_pap_title_0&sr=1-1 via Kindle for free and paperback for $13.00.