National Guard officer inspires crowd in West Wing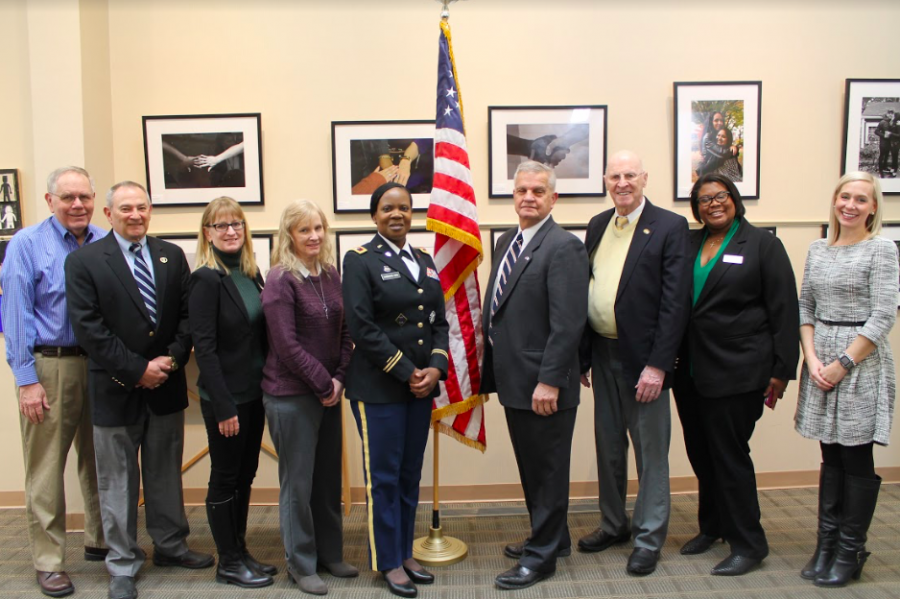 As Black History Month came to an end, Army National Guard Lieutenant Colonel Dana Sanders-Udo spoke with an overflow of students and faculty in the Karen Sprague Cultural Arts Center, West Wing Gallery on February 28.
The event was sponsored by the AIC Veterans Committee.
Sanders-Udo started off her stating how "beautifully diverse the atmosphere at AIC" was as she looked around the room. It was impressive seeing how many students came out, although she joked saying it must have been for a class.
And just a handful of the packed audience said they are active duty service members.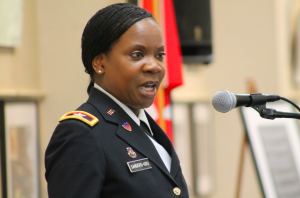 Yet, as I spoke with many students, they expressed how they actually came on their own because the topic captivated their attention and just had to see for themselves.
With 34 years of service Sanders-Udo shared her experience, in and out of the military. As an African American, she made it apparent the urge for more. Knowing in order to do that there were steps that needed to be taken especially in order to be financially able.
Joining the military created many opportunities, which impacted the growth of Sanders-Udo. It went from being just a job into true patriotism, because she loved what it did for not only minorities but also immigrants. As society is constantly battling the fight for immigration, it is important acknowledging that there are still options within America.
"I fit in because I accept differences," Sanders-Udo said.
"It was the difference amongst people that brought them together. Initially I assumed as women, especially being African American there would be a lack of respect," she added.
What stood out was the relentlessness of Sanders-Udo regardless of the obstacles she faced during her terms. Ergo she says, "Be comfortable being uncomfortable," a piece of advice that resonated throughout many people in the room.
Just like her, much of the student body face different trials every day.
Members of the AIC audience had good things to say about Sanders-Udo's talk.
Sophomore and Nursing major, Abak Sandy Kayamba said the talk left her with positive feelings.
"Meeting Colonel Sanders-Udo was an inspiring end to my black history month," Kayamba said. "It's a reminder that I too can achieve my own American dream."
Sanders-Udo urged the audience to remember that even during times of doubt, you cannot give up on yourself. Mentorship is a huge part of this mind set.
"You cannot let society's thoughts hinder your future," Sanders-Udo explained.
Acknowledging that help is necessary is very important, she noted. And that is not only because this is a time in society where there are so many barricades blocking our success, it is also simply because it is so valuable to have the support of someone.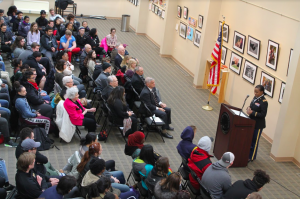 People tend to say, "it takes a village," which she believed was true as well. Life can be like a machine, for it to run smoothly different parts need to work together to create the ultimate result.
When someone believes and supports your dreams, the impact is detrimental.
Sanders-Udo said, "You don't have to be the same gender, race, age, or anything else. They just have to see something in you and want to help. SO LET THEM!"
As the event came to a close students and faculty engaged in a question and answer session.
There was a question about what she would say to her younger self, looking back now.
"Ask more questions, find help, look for mentors, ask, ask, ask!" She responded.
The elaboration of seeking help was my biggest take away.
There are times where we contradict our thoughts and actions based off and around societies idealist perceptions of how things are supposed to be.
No one tells us that there are alternatives when things don't always go the way expected. So having those in your corner can be very beneficial.
After years of service, Sanders-Udo will be able to retire in a few years, and she intends to continue giving back to her community in one way or another.
She is thinking about making her contributions in a second career possibly in higher education, working at a Veterans Assistance facility, or even ROTC. To ensure those seeking more from life have someone who believes in their dreams just as much.
Lieutenant Colonel Dana Sanders-Udo, left an amazing aura in the room and you could feel the encouragement to do more and seek help when needed.