Commuter woes: new club hopes to help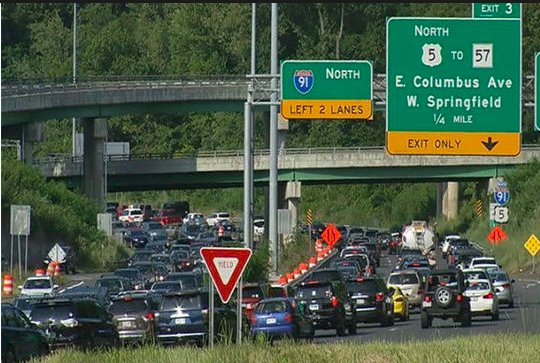 Being a commuter has its benefits: not paying extra for a dorm, sleeping in your own bed, enjoying the comfort of your own room, eating homecooked meals, even being close to your beloved pet.
But lately, it seems being a commuter has been especially frustrating.
From the three lots that commuters can choose from, all spots are filled by 10 a.m. and the struggle to find a spot becomes a competition between fellow commuters. Some commuters resort to parking in other lots such as K, G, or taking the risk of parking on the streets.
Take my own story.
Back in early March, I found myself running a little late for class due to the glorious morning traffic of I-91 north. Of course Lot B was also full, as was Lot D. I next tried the extremely small Lot A and of course it was full.
Lots D and B are the safer options for commuters. They are very close to campus and are equipped with the blue light emergency systems.
Lot A is half way down State street and is the VERY last resort for unlucky students.
It is nerve wracking knowing that anything could happen just walking to your car.
I took it upon myself to park in Lot K, the lot behind the new Health Sciences building. Lot K is supposed to be for staff, yet, it is always half empty. So, I parked all the way at the end of the lot to not disturb anyone and I went off to class.
Around 2:30, I was notified that I received a ticket for $25. Now, $25 may not seem like a lot but when you pay $100 for a parking pass that doesn't guarantee a spot, it is a lot. I immediately appealed the ticket and I just found out on April 12ththat it was rejected.
So, here we are.
Don't get me wrong, I love being a student of AIC, but it is so frustrating and stressful trying to figure out parking. It feels like commuters are at risk of a ticket anywhere, anytime, and any way.
Being a commuter also comes with the fear of missing out.
Hanging out with your friends becomes difficult, wanting to go to games to support but having to choose between wasting gas when you don't need to go in, or just being able to have the full college "experience".
A new and upcoming student organization called, Commuter Engagement Organization also known as CEO, has hopes to bring commuters into the equation more. One of the major things they would love to do is renovate the commuter lounge.
Yes, we actually have a commuter lounge.
The lounge is located under the hive right near the bookstore. It looks like a decent space, but it does not compare to the wonderful Colaccino lounge equipped with fireplaces and great lighting.
The space needs some sprucing up. The walls have some "bald spots" where paint/wallpaper has disappeared, the furniture is not very comfortable, lighting is sparse, and there aren't many places to do some work.
CEO wants to change this.
Aneida Molina, Sophomore Class Secretary and candidate for Commuter Representative, is one of the masterminds behind CEO.
"The idea of starting a commuter organization came from when I was a freshman, I looked and asked people if there was a commuter fridge to place my food, but the answer was no," Molina said. "At the time, as a full-time college student, I did not want to buy food on campus, so I would bring food from home. It troubled me when I had no place to put it while I was in class. But now as a sophomore I would like to change that."
Molina describes her hopes for CEO and why commuters need this.
"I want this organization to let commuters know that there is more to AIC then just coming to class and then driving back home, and through this club they will have a voice. But in order to get our needs heard, we need to come together," she said.
What they would like to bring to the lounge is some AIC flair to the walls, more places to sit, and even a fridge, like Molina said. There would also be other appliances to make it easy to keep drinks cold or even heat up some ramen.
Another improvement is to have the carpet redone and add some study cubes, similar to the ones in the library. This would be a great place for commuters to hang out in between classes, rather than going to their cars when the library or the hive is full.
The CEO could be such a great thing for commuters, potentially improving commuter life.
The next meeting for CEO will be posted through SGA's snapchat, classof2021, or around campus bulletin boards, but is expected to be next week in Schwartz Campus Center.
Commuters are HIGHLY encouraged to attend and provide a signature to help this organization happen!