MGM officials visit AIC to share, enlighten
Two officials from MGM, the downtown Springfield casino complex, paid a visit to AIC this month to share insights about the facility and give a few job and networking tips.
Sponsored by the Business and Sports Recreation programs and the Sport Management Club, the session drew a standing room only crowd to the Courniotes Hall Amphitheater during the C-Hour on April 9.
Business and many other students filled the hall to hear MGM's Jose Delgado, director of government affairs, and Saverio Mancini, director of communications.
The speakers shared many details about the sprawling facility at the corner of State and Main streets – how it was designed as an open and friendly space in the South End neighborhood, and how it appeals to many with its variety of entertainment options. Besides gaming, MGM Springfield has a bowling alley, a movie theater complex, a concert venue, and more.
They also explained aspects of the day-to-day running of a big business, and because the gaming industry is so heavily regulated, how they work with government agencies and officials. The potential for online gaming also came up.
As for careers and employment, Delgado noted that MGM worked hard to ensure that many local people were hired.
"I was born and raised in the city of Springfield," Delgado said. "A lot of people thought MGM would bring in a bunch of people from Las Vegas. But they went out of their way to make it a local place, with a lot of local people."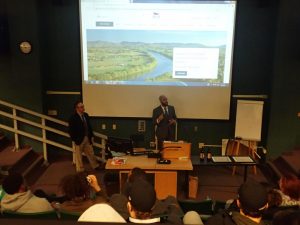 Mancini said the design of the facility was intentionally different than many casinos, an effort aimed at highlighting the variety of entertainment offerings.
"We broke the mold as far as casinos go," Mancini said. "In the old days, all the non-gaming stuff would be located in the back, with the gambling up front. At MGM you can enter the facility from all angles, and enjoy the various components that we offer."
MGM Springfield is indeed local, with a design that features Springfield history highlights including Dr. Seuss, the old YWCA building that remains on the grounds, a sign from the old Keg Room, and more.
Sport and Management Recreation Professor Mei-Lin Yeh-Lane planned the Business Leadership Forum event with Business Professor Keff Lagoditz and students from Prof. Lane's Event and Facility Management class along with the Sport Management Club.
Prof. Yeh-Lane said the event was great for the student planners, as well as all who attended.
"We used many of our class time, sometimes outside class to plan for the event. We started up with brainstorming ideas, identify potential topics and speakers, set up goals of the event, promotion ideas, developing survey questions, working on the checklist for the event," Prof. Yeh-Lane said.
"Those students who are involved in the planning process got a real-world experience and bring their ideas to live," she added. "This was an incredible process and accomplishment for many of our students to see a full house at Amphitheater on Tuesday morning. I told them this morning in class, they should pat themselves on their back as they did a wonderful job to pull the event together."
Students said they appreciated the entire process, from planning to hearing from the two officials at the event.
"I learned a lot from today speakers," said Jordyn Nicola Isaac, sophomore in the Sports and Recreational Management Program.
"Most importantly I learnt that connections are key in the business world. The speakers said, 'It's not what you know but rather who you know sometimes', something we all need to hear," Isaac said.
Sophomore Ian O'Brien, also a Sports and Recreation Management major, said he also took away some good and interesting information.
"I thought it was interesting how they were saying that most casinos put all the non-gambling aspects in the way back, forcing customers to walk through the slots and tables and be tempted to gamble, even if they did not come for that," O'Brien said. "It is also interesting how MGM broke that mold and separated the gambling aspects from the none gambling things."
Another Sport and Recreation Management major, Jocylyn Deome, said, "I wasn't ever concerned about sports betting. Yesterday's speakers opened my eye on it and it was very interesting to learn about and see what the near future plans may hold within sports betting at MGM.
Deome, a junior, added, "It was also interesting to hear all of their thoughts and goals for MGM as a whole. Both speakers seemed very happy, proud and dedicated to their jobs, which makes the whole thing more enjoyable to listen too. When someone is that committed it catches the audience attention and lures them in. Very well respected."
Kudos to all organizers who made this event happen!