New student orientation makes a hive
Orientation Leaders (OLs) welcomed the class of 2023 to campus for New Student Orientation (NSO) as "one hive, one family." From August 23 to 25, new students took part in programs and activities that were carefully designed to prepare them for life as Yellow Jackets here at AIC.
Planning an event like NSO takes someone smart, dedicated, and passionate to pull it off flawlessly. Ashlee Givins, the Assistant Director of Student Life for Student Engagement, oversaw the entire program "from A to Z," as she explained. Givins covered everything from interviewing, hiring, and training the OLs to coordinating the logistics of each program for the weekend.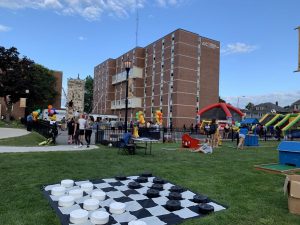 Givins has had experience in orientation since 2006. "I was a student at Nichols College, and I was headed down the wrong path," she said. She spoke about how her grandfather reminded her that orientation was something that she had always wanted to do. "I thought it was a good time to do it and I was lucky enough I got hired, and I fell in love," she commented.
After participating in orientation for her last two years at Nichols, Givins attended a conference for the National Orientation Directors Association (NODA), where she realized she could do orientation for the rest of her life. "Sign me up!" was her natural response. "I just love it," she went on. "College really saved my life and I always wanted to give back to that and be a part of that for other people. And I think it starts at orientation."
Orientation is important for every person involved. For the new students, Givins said, "It's their first impression. Those first three days are make or break." And as for the Orientation Leaders, "It changes you. One, I think it develops more pride in your school…but I also think it opens your eyes to behind the scenes." She touched on how becoming an OL makes students better understand the operations of the school as well as one another.
"My biggest goal is to take you to the next level as a human being, not just an OL," Givins shared. She wanted to make the student leaders better people, just like what she had experienced as an OL. She went on to say, "It's so much more than a job or a leadership position. If I do it right, it should become a part of you."
Unfortunately, due to unforeseen circumstances, Ashlee Givins was unable to stay and oversee the NSO weekend. Alex Cross, AIC's Associate Dean of Student Life, assisted Givins throughout the creation of NSO and was ready to step up to see it through in her absence. Cross said, "Ashlee had done a lot of the planning over the summer…so it was kind of picking up where she left off. Ashlee did a lot of the lifting and I got to be the face of NSO."
Cross highlighted the feeling when each group of students first met their OLs, saying "It's one of the best parts of orientation…They're a little nervous, and we've been training for this, so we're a little nervous. So, I think there's some magic that happens there."
In addition to getting to know their Orientation Leaders throughout the weekend, new students took part in a mix of educational programming and fun activities to kickstart their college careers. In interactive seminars, students learned about Title IX and sexual assault, as well as safe and best practices for alcohol consumption. They also participated in a diversity workshop and learned more about their APEX courses.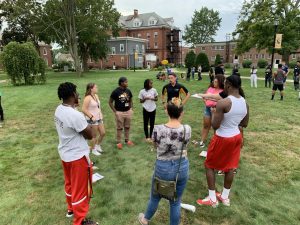 Having fun was also a priority of New Student Orientation. Cross spoke about the increase in attendance for many of the events compared to years prior. For Bingo Night in particular, Cross said, "We saw probably like a 300% increase in attendance." He continued,  "The carnival was a great success. We had hundreds of students turn out, participate, have fun, eat fried Oreos; the DJ is always a good time because people dance and have fun and it really shows you the culture of AIC." In addition to Bingo and the carnival, students played lawn games at the athletics center, watched Avengers: Endgame in the CCA, and took the shuttle to Walmart for any last-minute necessities.
Rose McCaffrey, a freshman Communications major, was in attendance for most of the events that took place during NSO. "I really enjoyed it and I really liked my Orientation Leader," McCaffrey stated. "I loved the carnival because it's where I met my friends, and the diversity program taught me that I can't judge a book by its cover," she continued. She also commented on all of the icebreakers and teambuilding activities her group did with their OL. During one activity related to the diversity program, students silently learned more about each other by stepping into the circle if a statement applied to them, or standing still if it did not.  McCaffrey commented, "The teambuilding stuff allowed us to open ourselves to each other…In a way I feel like NSO prepared me to be a Yellow Jacket because I got a little more familiar with the campus. I made some friends and I had a lot of fun."