AIC field hockey goes 4-0 for the first time in program history
For the first time in the program's history, the American International College women's field hockey team has opened up their season with a 4-0 record.
The team began their season with a jam-packed schedule of three games in just four days. The Yellow Jackets played all three games in different states: Connecticut, Pennsylvania, and Massachusetts.
On the evening of Thursday, September 5, the team kicked off their season with a non-conference game against NE10 opponent New Haven. The Yellow Jackets battled and came out on top with a 2-0 victory against the Chargers. Senior Chelsea Davis and sophomore Shannon Cormier scored both of the goals.
Sophomore Jessica Stone also recorded her first career shutout over her two years of being on the field hockey team.
Senior and team captain Chelsea Davis stated, "Keeping the teams loose and realizing that we have nothing to lose is going to keep us successful. No one expects us to succeed this year, and that will be a big advantage for us."
On Saturday, September 7, AIC traveled to Pennsylvania to take on Slippery Rock at a neutral site. The last time they met, Slippery Rock defeated AIC in a 7-0 game.  The Yellow Jackets looked to start a winning streak as they entered their second game.
American International College scored first in the second quarter with a goal from sophomore Wynona Shaw. Not more than ten minutes later, AIC put another one in the net. Sophomore Sophie Schulpen sent another one home, making it 2-0 going into the second half.
The third quarter was an even match, at least until a red card forced the Yellow Jackets to continue with one player down for the rest of the game, and with twenty-three minutes remaining.
American International College held their own. With twelve minutes remaining in the game, Slippery Rock was able to get one on the board. For the last two minutes of the game, AIC was down two players. But in the end, they were able to pull off another win. The final score was 2-1.
Captain Georgia Barnes explained the importance of having fresh new faces and the advantages of having a smaller team. "Being a smaller team is allowing us the chance to really get to know each other," Barnes said. "We're meshing really well off the field, which is why we're playing so well together on the field!"
The team had a quick turn-around after Slippery Rock, playing their home opener the next day on Sunday, September 8, at 1 p.m. against NE10 opponent Molloy.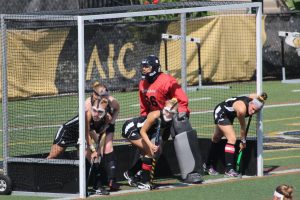 Looking to ride this high of winning, AIC was the first on the board when senior back Katelynn Leclerc put in a rebound eight minutes into the game.
Shortly after that, senior Georgia Barnes put AIC up 2-0, knocking in another goal. Molloy responded by notching one in to make it a 2-1 game going into the last quarter.
Molloy began to generate an attack, but AIC fired back, putting the game out of reach with three minutes left. Sophomore Lily Watson made the game 3-1.
The Yellow Jackets also defeated Southern Connecticut State on Wednesday, September 11, making their record 4-0 this season. This is the first time in American International College history that the women's field hockey has gone 4-0.
Senior and captain Jenny Holmquist commented, "This year, we have had a total flip. We are succeeding on and off the field and actually producing results. This team has changed mentally and physically, and it will be exciting to see where we go this year. I am excited to finally be a part of a team that all has the same goals and the drive to actually achieve those goals. We all want to be a winning team so bad, and I am excited to see us achieve that. We are so determined to be successful, and I am looking forward to seeing where we go as a team, and to see what the future holds for AIC field hockey."
The Yellow Jackets are scheduled to take on Southern Connecticut State again at home on Abdow field on Tuesday, September 17 at 7pm, and the University of New Haven, also at home, on Saturday, September 21 at 1pm.