Cross country runner's incredible journey continues at AIC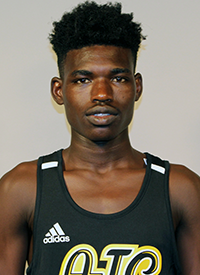 Students at American International College (AIC) bring diverse experiences to campus from all over the world. Sadadine Adam, a student at AIC, was born in Sudan, but migrated to Chad for a better life away from war before coming to AIC. He is a nursing major and runs cross country. His story embodies how we only see a small part of a person on the surface.
Growing up, Adam didn't have access to education. His life restarted when soldiers carried Adam and his family through water to get away from war and destruction. Their home was being destroyed; children and adults were dying. These events led to the Adam family living in a refugee camp in Chad. Though the Adams were given a card to buy food, it was not enough to support Sadadine along with his five brothers and two sisters. Adam also has two more brothers who stayed in Sudan to start a family.
In Chad, Adam's family would always cook. His favorite food was a home-made stew made with salt, garlic, onions, and a kind of leaf he cannot get in the US. Though this was his favorite food in Chad, now his favorite food is chicken.
Once the Adam family moved to the United States, their life changed. As refugees, they didn't have all of their documentation from Sudan. Without a birth certificate, Adam received from the U.S. government the birthdate of January 1, 1999.
This gave Adam a disadvantage when he went into high school, where Adam ran cross country for three years. During his senior year, Adam was considered too old to run cross country at his high school. He developed a love for the sport, even though he was denied a year of competition because he was given an official birthdate that was different from his actual birthday.
When Adam first came to school in America, some people thought he was rude because he could not answer when they spoke to him. In 2015, he first learned the characters of the Roman alphabet. Since then, his English has developed rapidly.
Adam's first language is Masalit, from his home in Sudan. During high school, he learned Arabic and English with the help of his best friend, Sadik. Sadik helped the family navigate medical problems and improve their English.
Adam loves living in America: "There are many opportunities, good education, and support from everyone." Previously, he believed that he would never go to college and learn. Adam kept pushing to learn English, and to excel in school. He graduated high school early, and hoped to make it to college. Now he is attending American International College for nursing.
His dream is to hopefully make it to the Olympics for cross country. He has every reason to keep chasing his dreams, especially after pushing so hard to get to where he is now. With his big heart and big dreams, it seems like nothing can stop him.
For students at AIC, Adam's story reminds us to stop and consider that there is always a story behind a face. Take time to get to know the students who are living around you. You will never know what someone's story could be.