Coach Riley Brennan steps up to new position
Liz Day, Staff Writer
October 15, 2019
The head women's lacrosse coach position has been filled for the spring season at American International College by Riley Brennan.
Coach Brennan was the assistant coach for the two seasons prior. She is also an alumnus of the AIC lacrosse team, a five-year member.
During her time at AIC Brennan smashed all of the records and she still holds the title. She was a dominant force on the field.
"I found out about the position after the head coach I assisted under left."
Brennan is super excited to start the season. When asked about some of her goals she responded, "This year it would be really great for any player of any age to make an all-conference team."
"Also going for 500 points is a huge goal for us this year, we are getting pretty close."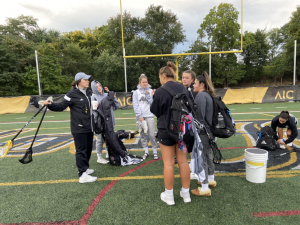 The Yellow Jackets have 13 returners and a big freshman class of 7. After going 3 – 13 last season Brennan is looking for change.
"The underclassman I was really involved in getting here, so I knew the freshman coming in which has been a big help."
"The underclassman were brought in to help change the program, they have inspired the upperclassman to keep their spots and to keep working hard. "
When asked about what kind of changes she would like to make this season compared to last, Brennan stated " Well there's a couple. This year I want to work on game preparedness. "
"The girls should know what they are walking into when they walk onto the field. They should be confident going into a competition. "
Coach Brennan is really focused on a big recruiting class for next year. " We always want to be bringing in fresh talent. We want athletes who are gonna compete with our upperclassman right when they come in. "
"This season I want all the team to compete with everyone in our conference not just competing in the spots in the bottom. I want our team to be a competitor in the conference."
The Yellow Jackets are in the NE10 and in seasons prior they have not made an impact.
The team had their first play day in New Haven they won one, tied one and lost one. Brennan "I'm super excited after today…I think we are going to be in a good spot for the spring."
Sucelly Macdonald is one of the teams' freshmen. "The fall ball season has been really fun we have been working on the basics of our game. "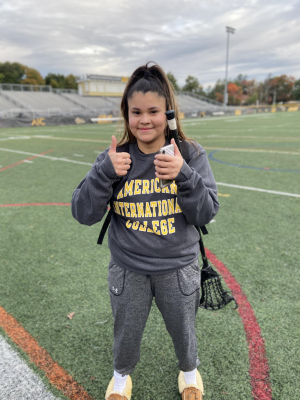 Macdonald is a midfielder for the Yellow Jackets, " Coming to AIC was an easy decision for me even though Coach Riley wasn't the coach who recruited me. "
"Coach Riley is the best, she has been so great for this transition, she supports us on and off the field, she is everything we could ask for."
"It was a little nerve-racking over the summer, we didn't know who was going to take over, it wasn't until the first week of school we found it was Coach Riley." Stated Macdonald.
"We all were so excited, Coach Riley was a great player when she played and the whole team and I have a feeling she can really change this program and bring us where we want to go. Far. "
Macdonald also thought the play day at New Haven went really well. " Yeah the outcomes weren't what we wanted in some games but we never stopped working. We kept our cool when some teams didn't. Coach was happy with that."
The Yellow Jackets played the Molloy, St. Rose and St. Anslem. "St. Anslem was the real test, they play clean defense and are very physical. Even though we fell to them we competed the best we could," stated Macdonald.