Straight Outta AIC: Alumni in entertainment industry share their journeys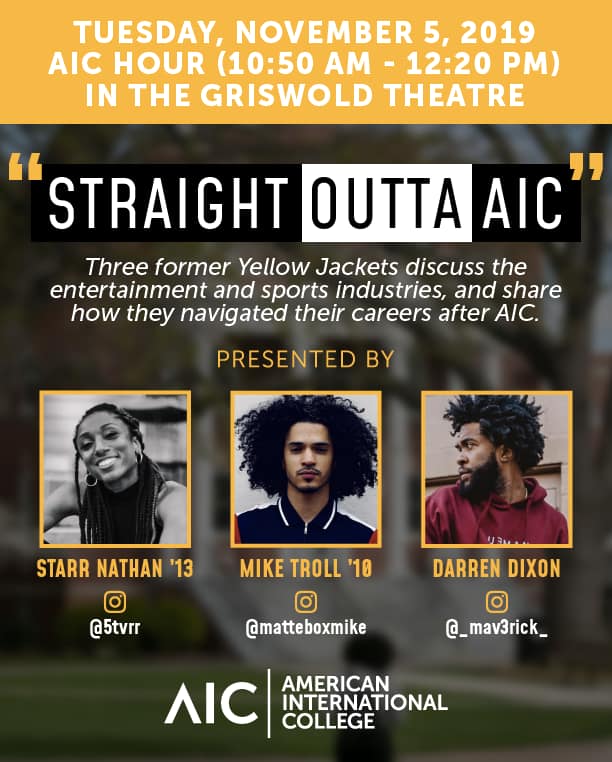 Jessienyia Climes-Rivera, Staff Writer
November 16, 2019
On Tuesday, November 5, during the AIC hour, three alumni took the stage in the Griswold Theatre to discuss their short film Know Me So Well, and to speak about life after graduating from AIC.
Life after college is a big concern for students approaching graduation. After walking the stage, many graduates say there comes a sense of relief. Yet for others, it is the time to test the waters and to start swimming.
Alumni House once again helped students get a first-hand perspective of what life could be when the classes are finally done and graduates enter into the workforce. Alumni Starr Nathan from the class of 2013, Darren Dixon from the class of 2010, and Mike Troll, who joined the discussion via Facetime, each shared their experiences transitioning from AIC into the entertainment industry.
They reflected on the time they spent on campus, how it helped them move into the "real world," and how it shaped them for the success they have achieved thus far.
Communication professor Marty Langford started off the conversation introducing each speaker, and gave the audience a brief background on working in the media and entertainment industry.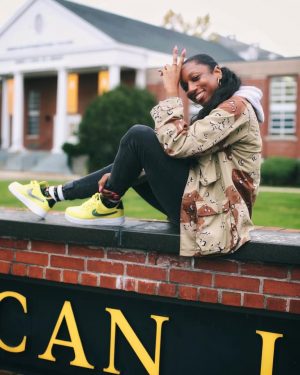 While Nathan was being introduced, she summarized the importance of her visit to campus in one word: "Representation."
As students in the audience listened to these former students, who walked the same halls, stumbled over similar finals, and overcame any obstacles put in their way, they could see graduation and their future careers as something not so far out of reach. Hearing about the importance of a given lesson or course in college from a professor is one thing, but hearing it from someone who recently accomplished it is another.
Nathan was a communication major minoring in marketing, as well as scholarship athlete for the track and field team, where she ranked as All-American. During Nathan's time at AIC, she held three internships; one at ABC 40 Fox 6 in Springfield, one at Lego in Enfield, CT, and another at BET in New York City. She was so confident one of her three internships would offer her a position, but after graduation, not one of the three companies had it in their budget to hire her. This led to her working at a non-profit organization, helping low-income families find housing. Nathan knew she wanted to do more, so she founded Starr Power Entertainment, a creative collective that specializes in video production. "I had a nine to five like everyone else, then Starr Power Entertainment became my five to nine," Nathan said. "Instead of off time, what I did was focus on my craft and what I loved, in between making sure my bills were paid."
Managing her time in this way gave Nathan the patience she needed to prepare herself for the opportunity she imagined. Although it was only for six weeks, BET finally offered her a position as a production assistant, where she was determined to put her best foot forward and to make sure they would remember Starr Nathan's name.
Those six weeks turned into three months, which then turned into six months. The whole time she was at BET, Starr continued to build Starr Power Entertainment. It was also during this time that the development of the short film, Know Me So Well really started getting in motion.
Darren Dixon found his calling through social services after graduation, working with disadvantaged youth. But much like Nathan, Dixon also felt there was something else he could offer to the universe, something else to be himself.
Dixon was a student athlete at AIC, and felt at something of a loss without football, so figuring out other hobbies outside of his career was important to maintaining his truth. He explains how he has always had an eye for aesthetics. What better way to explore that creativity than investing in photography?
"I signed up for Youtube University and began my journey into learning more about photography and building my craft," Dixon said. He passionately expressed "comfortability" with his craft.
In order to truly excel, one has to want to get up and go to work. Sometimes it takes that chance of just trying something new and working at it every day for people to recognize your passion and work ethic. "Starr recognized that I had good quality work," Dixon said, reflecting on how he connected with Nathan. "We started to network and catapulted into this creative space."
As the event went on, professor Langford asked some of the Starr Power team about their current film, Know Me So Well. Nathan described the project as "lowkey," but also as "an AIC production" at heart because of the collaborations among the team. She described it as a story that a diverse audience can connect with because it's based off common and true events we all go through in life.
Mike Troll, who was on the basketball team during his time at AIC, and who was a scholarship athlete, joined the discussion via Facetime. Troll played a supporting role in the film alongside the female lead, Joelah Noble, who hails from London. Nathan connected with Noble with on Instagram.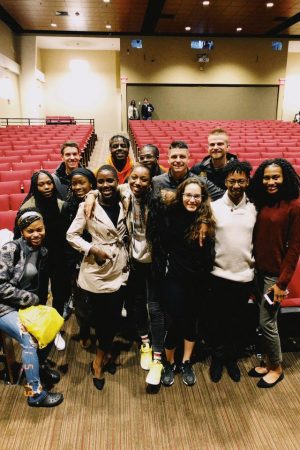 The film is an 8-minute story filled with drama, love, and truth. Starr Power Entertainment screened the short film to end the event, and it grasped the attention of everyone in the theatre. It was clear the audience was left wanting more.
Nathan shared that they were unable to release the film online, so instead they show it at different film festivals. Nathan also shared that she was proud to receive compliments on the film from the musical artist Jhene Aiko, who reached out expressing gratitude for the production.
Events and discussions like this with alumni are huge for the AIC community, especially because they help current students see that what they are doing at AIC can be beneficial to their growth and future careers.
To keep up with the Starr Power collective, you can tune into their website https://www.starrpowerent.com. For more information on the film, you can follow them @Starrpowerent on instagram.