Creative costumes pull in prizes at Stinger Halloween party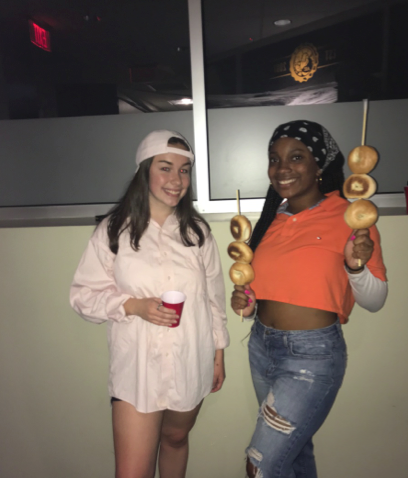 On Thursday, October 31, from 9pm to 1am, students in costumes flocked to the Stinger to attend a Halloween party with DJ Prince. The Halloween party was hosted by the Student Activities Board (SAB), the AIC Radio Club, and the Latin American Student Organization (LASO).
According to the president of the AIC Radio Club, Yosheka Cousins, these student groups collaborated on the Halloween party in order to create an event that "everyone can enjoy… We get to come together from freshman to seniors and enjoy a nice chill night."
The theme of the Halloween party was "Day of the Dead." It was also a costume party, so students arrived dressed up as anything they wanted to be. This attracted many students to come to the event. According to Cousins, "There was probably two hundred plus people who attended." She added, "The turnout was great. I definitely think it was successful."
First-year student Rose McCaffrey also attended the event, and remarked, "It was crowded, and there were way too many people to count."
Mairead Kealy, another first-year student at AIC, also commented, "I think there was a lot of people there and it looked like everyone was having fun."
The costumes contributed to the fun. Cousins stated, "Everyone was dressed up. I did not see one person not dressed up."
McCaffrey added, "Every person who went to the party dressed up for the event." There were so many different costumes.
According to Cousins, she "saw Bam Bam (from Flintstones) and Medea."
McCaffrey stated she saw T-Bo from iCarly, and it was her favorite costume at the party.
Cousins, McCaffrey, and Kealy were also dressed up for the party themselves. Cousins went as Bat Girl. McCaffrey stated, "I went with a bunch of my friends and we were all frat boys." Kealy was also a part of the McCaffrey's "frat group."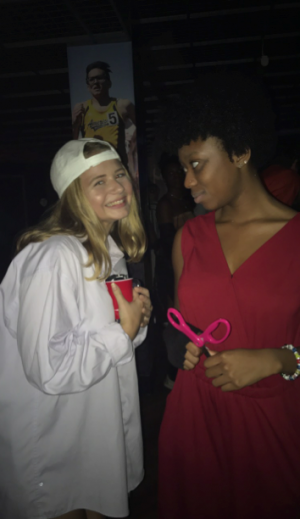 Many students wore costumes to get into the spirit of Halloween, but this party also had a twist. Students who dressed up were eligible to win prizes for how amazing their costumes were. Three students were awarded prizes for their costumes by the end of the night.
In third place was a female student who dressed up as Lilo from the Disney movie, Lilo and Stitch.
In second place was a female student who dressed up as T-Bo from the Nickelodeon show, iCarly.
The costume that came in first place was a male student who dressed up as Medea from all of the Tyler Perry Medea movies. While there were only three prize-winning costumes, everyone who attended the party was automatically entered into a giveaway for a pair of Air Pods.
The party had a great turnout overall. When asked, "Would you come to a Halloween party like this again?" McCaffrey answered, "Yes, I would come back next year with my friends."
Kealy offered a similar response: "Yeah, I thought it was a fun way to hang out with my friends."
Cousins, who helped organize the event, expressed interest in planning similar events in the future. "I definitely might host more events like this party," Cousins said.
Cousins even hinted that she might help to plan the Halloween party again next year. "Based on this Halloween party," Cousins said, "I would definitely want to have a Halloween party again next year. But as of right now, everything is still undecided."
The three student organizations that helped to host the Halloween party this year each host their own separate events throughout the year. Make sure to be on the lookout for upcoming events from the Student Activities Board (SAB), the AIC Radio Club, and the Latin American Student Organization (LASO). If you want to find any event from any of these clubs, you can go to https://aic.campuslabs.com/engage/. There you can search up the name of these clubs or any other club here on campus.