Customer complaints trouble the launch of Disney Plus streaming service
On November 12, 2019, the Walt Disney Company launched their own streaming platform for their customers to use. Their platform is called Disney Plus or Disney+.
Disney Plus is a streaming app/website that lets anyone watch any Disney show or movie that Disney has created since the beginning of their company. Other companies that Disney owns also have their shows and movies on Disney Plus. These other companies include Pixar, Marvel, the Star Wars franchise, and National Geographic.
Unfortunately, this luxury comes at a cost. There are three different bundle packs offered on their website. The cheapest plan on the site is the 7-day trial.
On this plan, you get everything related to Disney, Pixar, Marvel, Star Wars, or National Geographic. This plan is for customers just looking to dip their feet in the water. It allows customers to experience their app and to see if they would want to pay money for it or not.
The second plan that Disney Plus offers costs $6.99 a month, following the 7-day free trial. This plan offers all of the exact same things that the first plan offers, but for a longer period of time. And it takes cash out of your wallet.
The third and final plan is the most expensive at $12.99 a month. It provides everything offered from the other plans, but also includes extra deals.
What makes this plan so different is that also offers customers access to Hulu and ESPN+. This means subscribers can get a Hulu account and watch anything Hulu has to offer from their streaming platform. Customers also get to watch anything that ESPN+ has to offer.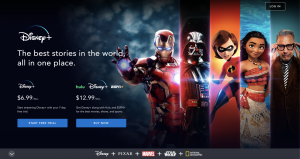 Only a few days into the launch, a number of reports surfaced about customers' accounts not working. Users claimed that they were unable to login into their Disney Plus accounts. There were also numerous reports of users be hacked.
People have also been blocked by Disney Plus. Many people have been complaining about these issues and have been trying to contact the Disney Plus help center.
But because so many customers are having issues, reaching the company itself has been very difficult for most people. The customer service line had a wait time of over 90 minutes, and the waiting time on the help center website is over 30 minutes.
Sophomore Josselyn Vasquez, who is majoring in nursing here at AIC, signed up for Disney Plus. She has had it for a couple weeks and while she has enjoyed Disney Plus, she has had a few issues with the platform.
According to Vasquez, "When I tried to log in, it kept giving me an error." Vasquez was frustrated that her troubleshooting efforts were unsuccessful. "It claimed that too many people were online," she said. "So I tried restarting my app. And it didn't work."
According to the sophomore, the issue has not been resolved yet. She has tried to communicate with the company, but she has not been able to reach them.
But when Vasquez had access to her Disney Plus account, she stated, "I watched old Disney movies and shows like Up, Finding Nemo, and Good Luck Charlie."
When Vasquez was asked if she thought the new streaming service is expensive, she replied, "Yeah. I'm frustrated with all the errors it's having right now."
But when asked if she is willing to pay for Disney Plus in the future, Vasquez replied, "Yes."
Some people have had many problems with Disney Plus, but some people have been more fortunate and have not had any issues with the new streaming platform.
Freshman Emma LeBlanc, who is majoring in criminal justice, considers herself a happy customer based on her experience with Disney Plus. According to LeBlanc, "I've been using Disney Plus for about two weeks and I haven't had any issues yet."
With no complaints, LeBlanc has been watching all the Disney classics, such as The Suite Life of Zack and Cody, Hannah Montana, The Parent Trap, and The Chronicles of Narnia.
When LeBlanc was asked if she thought the price of the service was fair, she replied, "No." She also suggested that she would not be willing to pay for the service in the future, but that she would still like to enjoy the content offered on Disney Plus. "I would probably make my father pay for it or use somebody else's account."