International students bring a competitive edge and diversity to AIC ice hockey
Just as it says in its name, American International College is home to many international students, ranging from places all over the world.
AIC is a small liberal arts college that consists of 72 acres located in suburban Springfield, MA. With 1,424 undergraduate students and a growing ice hockey program, it has become a popular destination for many international hockey players.
This season's 2019-2020 roster consists of 33 players: 21 forwards, 9 defenseman, and 3 goalies. 17 of the players on the team are international students from Canada and from European nations. The remaining players are American citizens.
Some of these international students on the ice hockey team were asked how they chose to come to AIC and how it differs from back home for them.
Junior Tobias Fladeby, a major in international business from Norway, remembered an important moment that influenced his decision to come to AIC.
"I went on a college tour at a school in Minnesota when I was sixteen years old," Fladeby said, "and that was when I decided I wanted to attend college in America." Fladeby added, "I knew right away it could be such a fun and unique experience."
Fladeby also mentioned, "College here in America is very different from back home in Norway because it is not possible to combine education while playing a sport at a high level." He continued, "My college experience at AIC is going to help set the foundation for the rest of my life in all aspects."
In the 8 games the team has played this season, Fladeby has scored 7 points, which places him second on the team.
At American International College, there are also a number of international students who are a part of other sports or who are simply just wanting to get an education.
A freshman, Jake Stella, said, "I believe in the short time that I have been at AIC, it has made me a better student [and] person. And I've learned a lot since the beginning of the semester." Stella is sports management major and is from Karlstad, Sweden.
Stella also commented on the fact that US schools treat college athletes differently. "Back home, they don't offer athletic scholarships like they do in America, which is one of the main reasons I decided to come to AIC."
Stella added, "I can already see college in America is going to open a lot of new opportunities for me and give me the chance to have success in the future." Last season in junior hockey, Stella scored 38 points in 60 games with the Corpus Christi Ice Rays.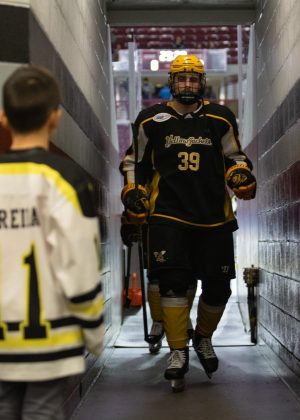 So far this season, the men's ice hockey team sits with 3 wins and 5 losses. The Yellow Jackets are 3-2 in the Atlantic Hockey Conference.
Oskar Strömberg, another international student on the ice hockey team, is a junior from Stockholm, Sweden. He touched on how the AIC coaching staff recruited him on his final year playing junior hockey.
Strömberg stated, "By attending AIC, I feel like I have gotten a good base to stand on once I graduate and have to start looking for a job." He then added, "I also feel like I have expanded my network, which will definitely be beneficial for my future." Strömberg is an economics and finance major.
Strömberg's story similarly aligned with Fladeby's when he said, "Most of my friends go to college at home, but I chose to go to college in the US simply for the reason to combine both athletics and academics." Strömberg stands at a tall 6'7".
American International College takes pride in the diversity among the student body at the school. International students bring special aspects to the school, and have definitely contributed an important piece to the Yellow Jacket ice hockey team.
The Yellow Jackets had a long home stand before Christmas. First, they faced off against RIT on November 29-30 at the MassMutual Center, pulling out a win in both games. They faced Sacred Heart on Tuesday, December 3, losing 2-4, and then Canisius on December 6-7, winning 6-0 .
For tickets, details, and scored, check online on the website at https://aicyellowjackets.com/sports/mens-ice-hockey.