Students gather in the Stinger for Super Bowl LIV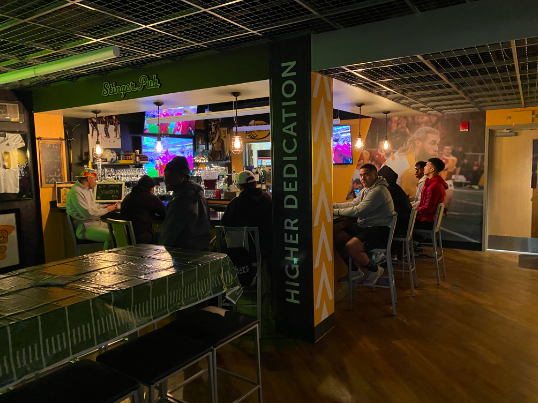 Hang on for a minute...we're trying to find some more stories you might like.
On Sunday, February 2, Student Affairs held a Super Bowl party at the Stinger pub, where AIC students were invited to watch the game and enjoy drinks and snacks.
It was an important for football fans on campus, so they went all out with their spread. The event offered wings and a cake with "Super Bowl LIV" written on it. Students also had their choice of beverages.
Students 21 and over enjoyed beer and wine as well. The event was well attended and catered to everyone, from casual football viewers to more die-hard fans, rooting for their team to go big or go home.
The Super Bowl was last Sunday. The San Francisco 49ers and the Kansas City Chiefs faced off at the Hard Rock Stadium in Miami Gardens, FL. The Chiefs won, 31-20
Both teams had amazing seasons. At the beginning of the season, fans from both teams probably never expected that their team would make it to the Super Bowl. But everything happens for a reason, and these two teams made it to the big stage.
Both teams were the top seeds in the NFL playoffs and won their conference championship games.
At AIC, there are a lot of different fan bases because students come from all over the country. Some students commented on the game during halftime and explained which teams they were hoping would win the Super Bowl.
AIC sophomore Jonas Espinal is a New Orleans Saints fan, but had reason to cheer for the Chiefs.
"If I had a choice to pick a team," Espinal said, "I would have picked the Chiefs to win because of their high-power receiving core that they have on the field. They also have a very talented QB that plays to the end and always does something to get the teams going. This game displayed how the Chiefs are such a dominating team."
There were some San Francisco fans out at the AIC Stinger pub on the day of the Super Bowl.
One California native, senior Aohili Latu, is not a die-hard 49ers fan, but felt compelled to support the team from her home state. "I may be a Raiders fan," Latu said, "but I got to ride for the state of California as a whole, even though that is the rival for my team."
Another AIC student from California, also watching the game in the Stinger, was senior Siale Alatini. Unlike Latu, Alatini is a San Francisco 49ers fan. "I am a die-hard forty-niners fan," Alatini said.
She added that her passion for the team has "run in my family and will forever. I never go against my team, no matter the circumstances that comes with it."
Jennifer Lopez and Shakira provided a memorable halftime performance.
Some students enjoyed the halftime show, Sophomore Ahmad Rabah commented, "I enjoyed the halftime show because I love myself some Latin women shaking some hips!"
Rabah also suspected that viewers from older generations may not have enjoyed the halftime show as much as he did.
Junior Darrin Fernandez said, "I enjoyed the show very much. Shakira stole my heart. I didn't know at such an older age that she would still look that good and be able to move that… I love her."
The game ended with the Chiefs winning in comeback victory. In the final minutes of the game, Patrick Mahomes threw a pair of touchdowns to get rid of a 10-point deficit, thus defeating the San Francisco 49ers 31-20 in Super Bowl LIV.
Mahomes won the Vince Lombardi trophy for the Chiefs, a prize that has been out of reach for Kansas City for the last fifty years. Mahomes also became the youngest MVP in Super Bowl history.