Meet the Three Nominees for the Most Prestigious Hockey Award
AIC is known for its talented students inside and outside of the classroom, so it is no surprise its hardworking athletes have received numerous recognitions and awards. Three members of this year's AIC hockey team have been nominated for this year's Hobey Baker Award.
The Hobey Baker Award has been awarded to the most prestigious college hockey athletes across the United States for the past 39 years. The award was named after Hobey Baker, a World War I veteran and hockey icon. The winner will receive a 40-pound detailed trophy that features a stitched jersey and lettered hockey stick.
Senior forward Blake Christensen, senior goalie Zackarias Skog, and junior defenseman Brennan Kapcheck have all been nominated, and are now part of the pool of 75 college players eligible for the award. These talented players are full-time students who have played for more than 50% of the season.
Athletic departments are able to submit up to three players. To be nominated, the players must "exhibit strength and character, both on and off the ice; contribute to the integrity of the team; display outstanding skills in all phases of the game."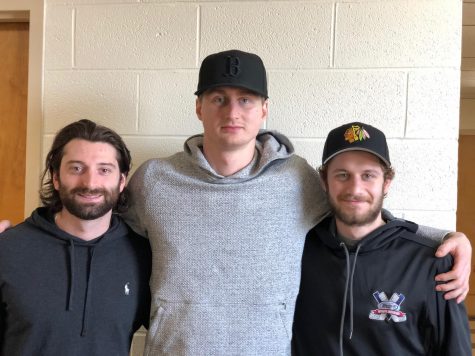 Recently, the AIC hockey team took home the Atlantic Hockey regular-season title for the second season in a row. Now, the team progresses to the playoffs. The AIC team is ranked in the top twenty teams across America for Division I Hockey according to USCHO, and ranked in the top thirty by RPI.
Senior forward Blake Christensen beat the all-time AIC scoring record this season. Christensen was honored to be recognized with his nomination for the award. But he also noted that his nomination wouldn't be possible without the help of his teammates.
"You don't have personal success without playing on a great team," Christensen said.
Christensen elaborated on how well the end of the season is going. He cannot wait for the playoffs. "We have put ourselves in a position to do something special again this season."
Senior goalie Zackarias Skog hails from Gothenburg, Sweden. He has over 400 saves in goal this season. Skog explained the season got off to a slow start, but now the team has really picked up and is playing their absolute best. The goaltender was very pleased after hearing he was nominated.
"This is a pleasure to be nominated," he said. Like Christensen, he is also focused on finishing the season strong: "Winning another championship would mean everything to me and my team." 
Junior defenseman Brennan Kapcheck began playing hockey at just two years old. All of that practice paid off, and he had over 60 assists this season.
Kapcheck expressed how unbelievable to him it is to see his family, friends, and teammates support him throughout the years. He mentioned how he and his teammates are looking forward to this intense period of the season.
"We're at the end stretch of the season and we are on our game right now" Kapcheck stated. "That's important because playoffs is what really matters. And we have a head of steam as we roll into our final games of the season."
None of the three members have official commitments after college yet, but they are all planning to continue to play hockey professionally.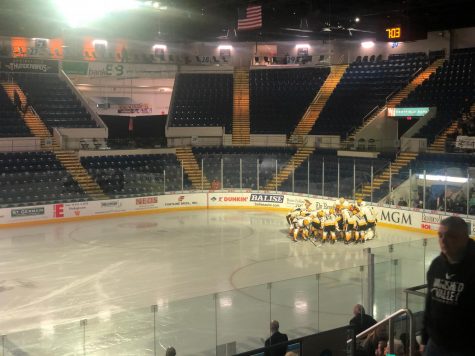 Although a member of the AIC hockey team has never won the Hobey Baker Award, the three candidates have a great chance to receive the prize.
Fans are able to vote for the first round until March 9th. To vote for one of these Yellow Jackets, simply visit https://www.hobeybaker.com/vote.
Best of luck to our three players!