PRIDE hosts Red Table Talk
On Friday, February 21, 2020, Persons Ready In Defense of Ebony held a "Red Table Talk," inspired by Jada Pinkett Smith's Facebook Watch show. The discussion was held in the West Wing at American International College at 7pm.
Seated at the table were President of PRIDE, Oshinofa Lakoju, Vice President of PRIDE Jamila Davis, as well as the student representative for PRIDE, Deshawn Givens and Siale Alatini, PRIDE's secretary. The special guests included Odo Butler, the Director of Institutional Research, Mika Nash, the Vice President of Academic Affairs, and Alicia McKenzie, Assistant Director of Diversity Education. The panel discussed the use of the N-word, the economy, and gentrification in certain areas. Their discussion was based on their own experiences.
The first topic that they covered during the table talk was the use of the N-word. According to Deshawn Givens, the N-word derives from "an Ethiopian word which doesn't even spell it the way we use it. It is spelled 'Negus'… and the meaning behind the word means 'ruler' and 'king.'" Givens explained the positive connotations attached to the etymology of the word to explain the way he uses the word and how he sees the word.
Alicia McKenzie was the first guest and provided her input on the word as well. "I go back and forth with the word… because it is usually used among friends and family," McKenzie said. She added, "We also have it being used in a hurtful or aggressive way towards African American men."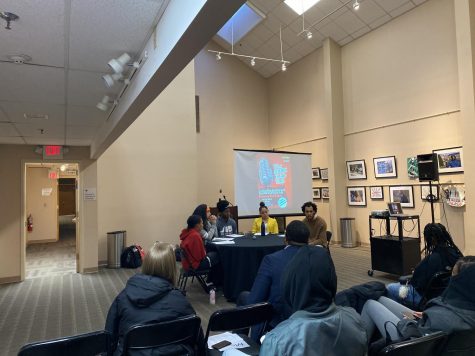 Alicia McKenzie sits at the table.
Photo by Marquis Walker
McKenzie's comments were followed by Jamila Davis, who had something totally different to say about the use of the N-word. Davis's outlook on the N-word is very straightforward. "I grew up in the South," she said. "That word gets thrown out at certain people in negative ways." Davis argued that if the N-word has the potential to hurt others, "then the word shouldn't be used at all."
The economy was the next subject up for debate at the Red Table, and Dr. Odo Butler, the Director of Institutional Research at AIC, was invited to replace McKenzie. PRIDE President Oshinofa Lakoju posed a question about why the money used by certain ethnicities is less valued in certain communities. She introduced her question by explaining a statistic she read in an article, saying, "In comparison to Asian communities, the Asian dollars stay within their communities a hundred and twenty times longer; in the white communities, it stays within them twenty times longer; in the Latino communities, six times longer. But in Black communities, it literally said zero." Lakoju wanted to know why this was the case.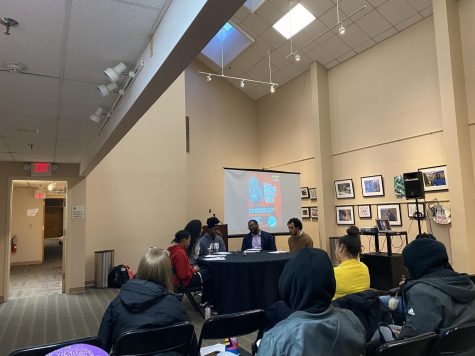 Dr. Odo Butler sits at the table.
Photo by Marquis Walker
Butler replied in response, "Your grandparents probably had farmland and other stuff, including stores and wealth in their communities. And as times goes on, [that wealth] began to disappear. And it is because someone probably wanted to kill them. And they run off and, 'Look! Land is taken!'" Butler explained that generational wealth is less common in African American communities. He also said, "Look at America. Everyone wants to come here because we give better opportunity to other countries trying to make sure history doesn't repeat itself in their part of the world. So, 'Come and get jobs in America, because we pay good and support their families.'"
Jamila Davis asked Butler how to become something or someone in today's economy. Butler responded, "As an individual, you have to believe in what you stand for and figure out what gifts you have… [Find] ways to put them together and manage them and keep that vision and save your vision."
Lakoju also talked about gentrification in her home city, which Harlem, New York. She shared that she grew up in Harlem, where black culture and wealth were in the majority. "But lately," she added, "there has been an influx of different organizations and corporations, whether it be Whole Foods… which is a health supermarket, but not the most affordable spot to shop at. It bothered me… They put it there because more white people were coming to my area." Lakoju also noted that there are "Three prominent things that they say can help you identify a low-income or impoverished neighborhood: funeral homes, fast food [restaurants], and liquor stores."
The "Red Table Talk" was one of many events organized by Persons Ready In Defense of Ebony this semester. Be sure to come out to the annual PRIDE Fashion Show on Friday, April 10.