NFL Draft Goes On Remotely, But Looks Ahead to a Promising Season
The NFL draft of 2020 will go down in history, not only for its abundance of talented players, but because of its format, which was amended due to the COVID-19 pandemic.
The draft took place over three days from April 23-25.  The draft was held remotely; everyone involved, including the commissioner Roger Goodell, participated from the safety of their own homes.
For the players, the draft is the culmination of all the blood, sweat, and tears they've given to the sport of football. All have dreamed of the day they hear their name called during the draft.
But in these truly are unprecedented times, major sports have almost all been canceled.
For football fans, it's nice to see what next season has in store. The draft is exciting because we are at least able to talk about football again.
The first pick in the draft was an easy choice.
The 2020 Heisman winner Joe Burrow, who had one of the best (if not the best) college football seasons for a quarterback of all time, got selected by the Cincinnati Bengals.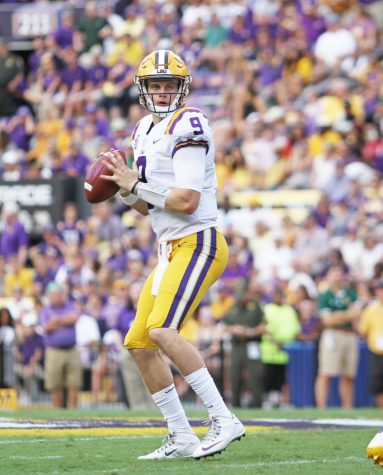 The Bengals had an awful season, and they need a player who's a winner and a leader, and that's exactly what Joe Burrow brings to their team.
Another big-time name coming from the SEC is Alabama quarterback Tua Tagovailoa who was also for a time a Heisman frontrunner alongside Burrow.
Tua Tagovailoa suffered a severe hip injury against Mississippi State this season, which required surgery.
This scared a lot of scouts because the great Bo Jackson suffered a similar injury, which led to the end of the legendary running back's career.
All the doubts about Tua's hip were put to rest when he posted a recording of a workout, and he looked healthy as ever. It looked as if he hadn't missed a beat since his injury.
It just goes to show all the hard work Tagovailoa put into his rehabilitation. After the workout, scouts were back on board, and Tagovailoa was selected fifth overall by the Miami Dolphins.
Without the injuries, Tagovailoa most likely would have been selected earlier. The great retired cornerback Deion Sanders said, "He [Tua Tagovailoa] would be my number one for obvious reasons, because he gives me more film for me to judge his potential of success."
But this year's draft wasn't all about quarterbacks.
As a matter of fact, this year had what may go down as the best wide receiver class of all time.
With big names such as Ceedee Lamb, Jerry Jeudy, Justin Jefferson, and Henry Ruggs going in the first round, this meant many receivers who would've gone in the first round of other drafts fell into the second round.
One of those talented receivers to fall to the second round was Baylor's Denzel Mims, who was picked up by the New York Jets, a team that desperately needs receivers.
Lifelong Jets fan Richard James commented on their newest receiver. "Mims is tall and a good target in the red zone for the Jets' young quarterback, Sam Darnold." James watched Mims' highlights after he was drafted.
Mims is a tall and very fast receiver. He stands 6'3″, runs a 4.39 at the combine, and seems to be just what the Jets need.  "He should fill the void that Robby Anderson left," said James.
Now we can't forget about defense, and I think an underrated pick was linebacker Kenneth Murray going to the Los Angeles Chargers.
Out of all the players in this year's draft, Murray was my favorite, not only because of his aggressive style and explosiveness, but because he is a quality person off the field.
One day while coming home from church with his girlfriend, he saw a woman who appeared to be dead after a car crash on the road, bleeding from her head.
"Immediately going through my head was to start CPR," Murray told Caleb McCourry, a sports editor for the OU Daily. "I had my girlfriend call 911."
Murray successfully resuscitated the woman and was performing CPR for minutes before paramedics arrived.
Murray potentially saved the woman's life, and he was very humble about the situation. I think that shows he has strong character, and that's something any team would want out of their players.
It's also a sign of his leadership abilities, which might explain why he was a captain while playing at Oklahoma.
This year's draft will definitely go down in history as probably the oddest of all time, but that doesn't seem to matter to the players who have been drafted.
They got their chance to live a lifelong dream, and now they all hope to make an impact and to do what they can to help their team win a Super Bowl.