Students Weigh In On Controversial Dr. Seuss Mural in Downtown Springfield
On the corner of State Street and East Columbus Avenue, there is a mural of Springfield native Theodore Geisel, or better known to most as Dr. Seuss. Seuss is most memorable as the children's author of such classics as The Grinch Who Stole Christmas and One Fish, Two Fish, Red Fish, Blue Fish. But the author of these classics also wrote and illustrated a number of books with racist imagery. In March of 2021, days before the author's birthday, the publisher decided that it would no longer be publishing six of his books due to the racist images. These books are And to Think I Saw It on Mulberry Street, McElligot's Pool, If I Ran the Zoo, Scrambled Eggs Super!, The Cat's Quizzer, and On Beyond Zebra!
On Beyond Zebra! happens to be portrayed in the mural of Dr. Seuss' works in downtown Springfield, painted by artist John Simpson.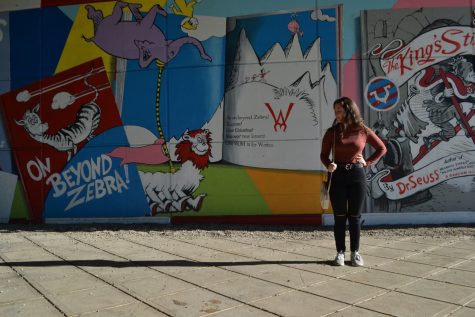 The book, On Beyond Zebra! pictures "Nazzim of Bazzim," who does not have a specified nationality, who is riding a camel-reindeer combination. Though the picture does not mention a nationality, it could be seen as mocking someone from Middle Eastern descent.
Junior Michael Carlin agreed with the publisher's decision. "I think we should get rid of the books," Carlin said. "There are plenty of other children's books among those age groups that have topics about racism. Those books are more proactive to teach kids about what is right and what is wrong."
When asked whether the mural in downtown Springfield should be completely taken down, senior Mariah Mauke said, "I definitely do not think the whole mural should be taken down. Dr. Seuss is an important part of Springfield's history."
Carlin thinks that the mural should be painted over with a new mural that does not commemorate a book containing racist images.
Junior Cameron Fitzgerald had never read the book, but does not think that removing the mural is the right move. "I think it is a part of history and it should stay on the mural," Fitzgerald said.
This is not the first time Dr. Seuss has had been embroiled in a controversy over his racist imagery, especially in the city of Springfield. In the book And to Think I Saw It on Mulberry Street, there is a racist portrayal of an Asian man. This image was put on display in the Springfield Museums, and it caused an uproar.
Mauke thinks that there would be a small outcry if the book was to be removed from the mural. There was a large outcry when the publisher announced that the books were no longer going to be published.
Many people argue that this is part of a growing trend of "cancel culture," a term that describes withdrawing support for public figures or companies after doing or saying something deemed offensive.
Carlin thinks that Dr. Seuss should be canceled. "There are a lot of other books that are published that just make more sense for the kids who are growing up now," Carlin said. "Not everyone has to read Dr. Seuss."
Professor Marty Langford captured the mural on East Columbus Avenue and State Street.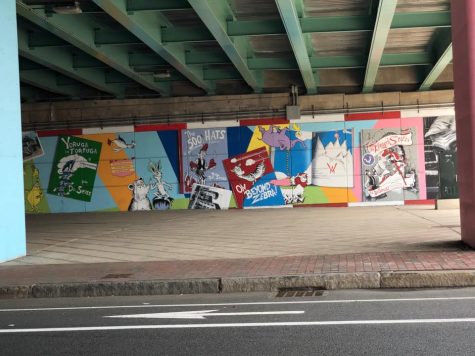 On Beyond Zebra! is pictured front and center. Dr. Seuss has had a lasting impact on the city of Springfield and the surrounding community, as he is one of the most prominent people from Springfield.
Attached here is a link to the Downtown Springfield website, where you can find the Seuss Mural and all other murals painted in the city of Springfield.