International Rookie Takes Charge on Women's Volleyball Team
On the American International College women's volleyball team, there are many international players who come from places all over the world, including Italy, Serbia, and Germany. The game of volleyball is the same everywhere, but adjusting to a new school in another country is not always easy for international students. Ulrika Blomgren, a first-year outside hitter from Sollentuna, Sweden, might be an exception. Blomgren came into the fall season a little bit after everyone else, but she worked her way to the top. Blomgren not only earned her starting position, but also received the Rookie of the Week award two weeks in a row!
Coming from across the world for school is already difficult, but playing a sport in a different country on top of attending college can be even more challenging. When the two-time Rookie of the Week was asked about such a big transition in regards to the adjustments of the game of volleyball, Blomgren responded, "It's different. The ball you play with is not the same. The coaches are different. There's more yelling here. We play at a slower pace than back at home… As an outsider, we are more inclined to hit the ball every play than back at home."
In spite of these difficult obstacles Blomgren had to overcome, she pushed through and is now excelling on and off the court.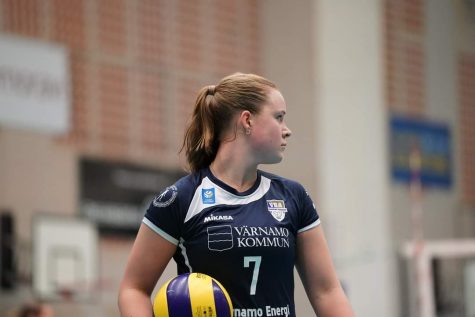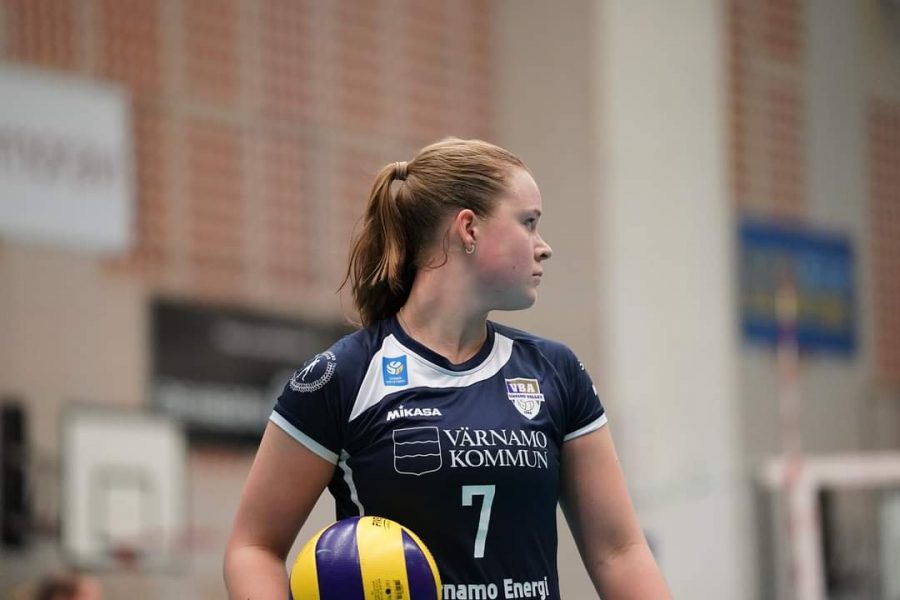 Another international volleyball player, Nele Birmele, is a first-year setter from Germany. Birmele was asked about her transition to AIC with Blomgren. Birmele agreed with Blomgren that there seem to be differences to how the game is played in the US. "The approach and rules to the game here and in Germany are different," Birmele said.
Both Birmele and Blomgren have had to make big adjustments to come overseas to play volleyball.
When asked about how it felt to be Rookie of the Week two weeks in a row, Blomgren said, "It feels really good. I was surprised just because we don't have that back home… I didn't know what it was, but it was really cool and was an honor." This award was well-deserved since Blomgren has made such an impact on the team for the Yellow Jackets. Her stats show that in the overall season so far, she has 116 kills, and 111 digs!
First-year Ben Warren, who currently plays on the AIC men's volleyball team as an outside hitter, knows Blomgren, and was asked for a comment. Warren said, "She's a great player with good skills, and is overall a great asset for the team."
The talent of Blomgren is something that has not gone unnoticed this season.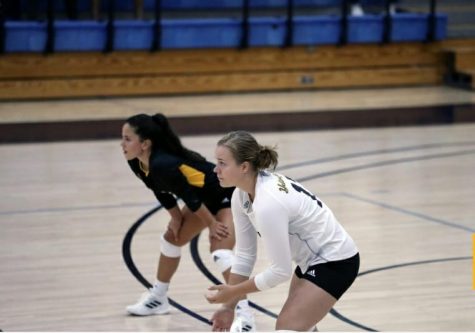 Coming to a new school and a new country, and playing a sport that is different from how it is played in Sweden can be difficult, but Blomgren is clearly finding success. When Blomgren was asked if there was any advice she would give to any future international students, she said, "Do not be afraid to ask questions… If you don't understand, it will be really hard. Most people won't judge you for asking, and would rather you understand than be confused."
This has been something that has made Blomgren successful so far here at AIC, and we hope to see more success from her in the years to come.