Seniors Steal Spotlight in Men's Wrestling Victory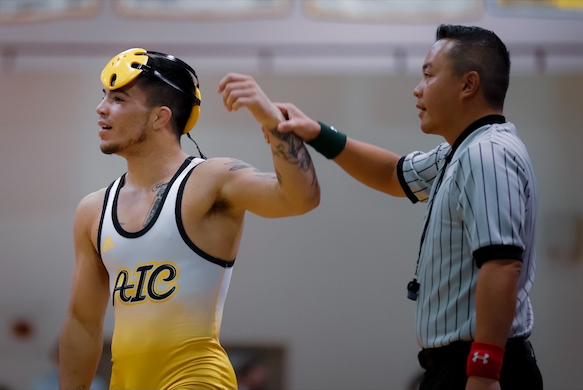 Leading into February 5th's dual men's wrestling meet against WPI, our Yellow Jackets had two seniors waiting to toe the line one last time at home. One senior, already an all-American, looked to cap off his last ride with a pin at Butova Gym.
I spoke with JoJo Gonzalez before his much-anticipated match. I asked him what his mental state was like. "I'm excited," he said. "Everything has gone according to plan, and this opportunity is something I know I have earned."
This meet was genuinely like none other. I arrived a few minutes early, thinking I'd be one of the first spectators there, but there were already dozens of people in the bleachers. Signs and banners lit up the bleachers, showing support not just for JoJo Gonzalez and Alphonse Ferrentino, but for all of the other Yellow Jacket wrestlers as well! I usually get the jovial coach Rich Hasenfus handshake in between matches if he hasn't seen me in a while, but there was something different in the air that night, and it was clear that Hansefus meant business.
The Yellow Jackets opened with a few hard-fought wins. It was time for Gonzalez to get to work. As a teammate and long-time spectator of Gonzalez, I can assure you of one thing…he has fun with what he does. Watching him demand his double handed high-low five from Coach Hansefus was surreal. After battling a bit of adversity in giving up an early takedown, Gonzalez finally got in his groove and poured it onto his opponent. The match ended in a technical fall, meaning Gonzalez scored so many points on him that the match automatically qualified to be over. At the last whistle, I could tell by his face that Gonzalez wanted a pin, the icing on the cake. With everything that the program has been through, I should say he should be proud of his display.
And what has this program been through? Well, when Rich Hasenfus took over the program, the team was ranked 62 out of 65 teams. The goal was to get national recognition. This was achieved when Gonzalez qualified for the NCAA championship and then became a two-time regional champion and a two-time all American.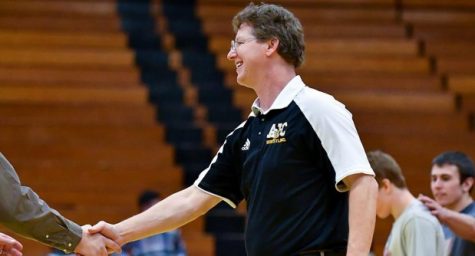 Rich Hasenfus recently brought a new class of first-year wrestlers in with the purpose of winning on the mat and in the classroom. Hasenfus started his coaching career at Harvard University in 1993 as an assistant wrestling coach to Jay Weiss. He continued as an assistant to the Crimson until 1995. Hasenfus then became the head wrestling coach of Wesleyan later that year. He left that program a few years later, then made two more stops before he found a home at American International College in July 2016.
One of Hasenfus's main goals when he took over at AIC was to change the culture of the team so that it would represent AIC athletics in a positive light. He engages the team in community service projects, attempts to hold everyone accountable for their actions, creates a family atmosphere, and makes academics a top priority in the program.
Hasenfus also has everyone bring their best efforts to practice daily. This past year on the academic side, Hasenfus had three academic all-Americans, which is the most the program has had since 2001. The team's overall regional GPA was 3.34, which was first in the region, and seventh in the country. "The team has also been ranked as high as nineteenth in the country as a team on the athletic side," Hasenfus said. The main goal on the athletic side now is to have multiple guys place in the NCAA national tournament and be a top-15 team.
The matches on Saturday night kept rolling. Although the Yellow Jackets had a few slip ups, it was a very valiant effort, especially by current junior Kyrie Williams, who was recruited just three days before, and who is only a couple of months removed from football season.
When the time came for Alphonse Ferrentino to hit the mats, he seemed concerned but still cool, calm, and collected. As long as I've known Ferrentino, he has been a realist–as though this adds to his focused and methodical style of wrestling. Ferrentino is no stranger to adversity; he's made lifestyle changes that have equipped him with newfound confidence and physique. Ferrentino started off strong, but after a few slip ups, he ultimately found himself ending his night with a loss. However, Ferrentino came back out to support the rest of his teammates who had other matches. This is no surprise, considering some of the things he and Gonzalez have testified to regarding the team's character.
Earlier that day, I asked Ferrentino what was something that separates AICs' wrestling team from others. Ferrentino exclaimed, "We are the hardest-working team for sure. Guys coming in beaten up and hurting and still busting their butts at practice. Even on our days off, guys are still getting after it … I doubt there are any teams working as hard as us."
The amount of leadership on this year's AIC wrestling team was nothing short of fully present. When asked what he thinks his lasting impression will be on the team, Gonzalez said, "I was an example of someone who went through tough times and proved that you can make it through if you stay the course and focus on each obstacle presented at a time."
The central theme that arose from everyone who spoke to the Yellow Jackets before and after their 30-18 win was that it was the Yellow Jacket attitude that allowed them to prevail and to persist in the pursuit of greatness.
"One thing you absolutely need to get up from [the] bottom… attitude." ~ (Lesson from Senior JoJo Gonzalez)