Men's Basketball Brings Experience and Potential to the Court
The AIC men's basketball team is 4-5 this far in the season, just below .500%. They had wins against Holy Family University, the College of Staten Island, Southern Connecticut State, and Assumption College.
This is a very talented team that can run the floor with the right amount of veteran leadership and experience. But they also have talented young players. The head coach is Andy Burkholder, who is in his seventh season at AIC. In his first season at the helm with the Yellow Jackets, during the 2014-2015 academic year, he led the team to its most successful season in two decades, with an NE-10 conference title and an NCAA appearance.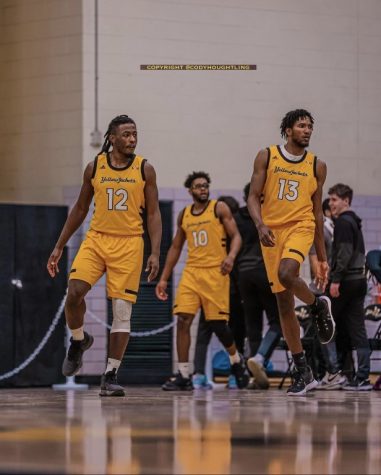 Yellow Jackets Walter Covington (12), Jalen Jordan (10), and Frankyn Batista (13) take the court. (Cody Houghtling)In the season opener for the team, the Yellow Jackets lost to Jefferson, 69-61. Franklyn Batista had a double-double that game with 24 points and 16 rebounds. In the next game after that, they beat Holy Family University. That game came down to the wire with Walter Covington hitting some free throws. They followed that win with a win against the College of Staten Island. They then lost to Pace on the road in a tough game.
The Yellow Jackets have played two conference teams at this point, and they faced Southern Connecticut State next. They were able to get a win that game as well with a score of 76-57.
The team then lost three games in a row. Starting against Post University, AIC lost by a score of 70-82. They then lost to Adelphi University by a score of 69-78. They had their most recent loss against New Haven with a score of 52-69. They did win their most recent game against Assumption (an in-conference game) by a score of 71-67. Their next game isn't until December 20, when they will face Bentley University.
This team has strong veteran leadership. Senior Shyheim Hicks is a guard, junior Walter Covington plays guard/forward, and junior Franklyn Batista plays forward/center. Jordan Vidal is a graduate student guard, and Xion Golding is a graduate student guard/forward. The rest of the team is composed of sophomores and first-years. There are nine first-years and four sophomores on this team.
Unfortunately, everything hasn't come together on the court yet. AIC is last in the conference in points per game with 68. They are also near the bottom in all shooting percentage stats. However, I must give the team credit for their ability to be in the top five for rebounds per game, especially when their tallest player is 6' 6″. That takes real effort and buy-in from the entire team; it means that everyone is helping out on the boards, knowing they may not always have the height advantage.
Currently, the Yellow Jackets are also last in team assists per game with just ten. I suspect that'll change real soon with the various playmakers they have on the roster.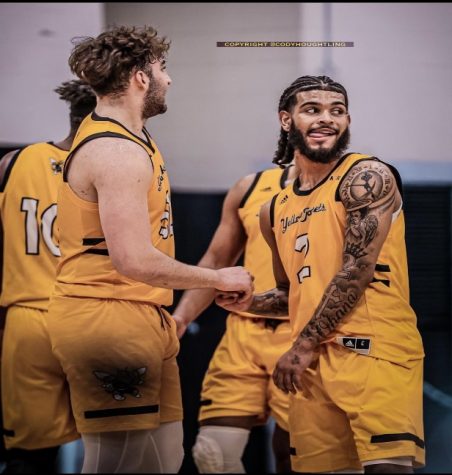 This is a undersized team, but they have great length at every position. AIC's smothering defense produces the worst opponent shooting percentage in the conference. Again, this is a very good team with the perfect mix of young players as well as experienced players. This team has a lot of fast shifty guards who can create their own shot and create opportunities for others to score as well. The players they mostly play at forward and center have great length and continue to improve at finishing.
I had the chance to ask Carlos Hubb what some of this talented team's goals are for this season. "Honestly, to win it all!" Hubb said. "We have a great athletic team this year, which gives us an advantage to have the best defense in the NE-10. And defense wins games. If we play as a team and hit shots on the offensive end, I think we have a good shot in making it."
It's safe to say that their goals are slowly but surely coming to fruition.