Men's Lacrosse Defeat STAC in Home Opener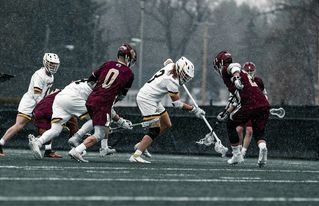 On Saturday, February 19, 2022, the men's lacrosse team at AIC had their first game of the season. They played Saint Thomas Aquinas (STAC) in the cold, snowy weather, but that did not stop the team from playing their hardest and coming out with a win!
During the 2021 season, the Yellow Jackets went 0-11; they had a really tough season. The NE-10 conference for lacrosse has some of the best teams in the country and it was hard to compete. But coming out on top in the first game of the season is a great start.
Taylor Murphy, a freshman on the softball team, was at the game. "They looked strong out on the pitch and it looked like they were having a lot of fun," Murphy said. "I liked watching them even if it was really cold…"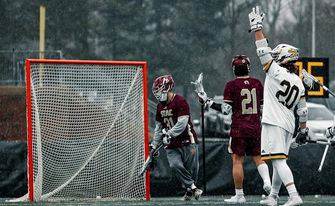 One of the captains of the lacrosse team this year is Russell "Rusty" Stone. The redshirt junior from Granby, Connecticut has been a prominent player on this team since he joined. During his freshman year he was named to the All-Rookie Team in the NE-10. I asked him how he felt about winning the season opener. "It feels amazing," Stone replied. "The whole team has been itching to play against kids that aren't their own teammates, so being able to go out and beat a team that we were confident we could beat feels amazing. It also feels great to go out and not only win the opening game of the season, but to have it on our own field makes it feel even better."
Stone felt that communication between his teammates was crucial to their win. "The defense communicated exceptionally well," he said, "which helped shut down the other team's offense. Our goalie saw the ball well and shut down their shooters. Our offense played together as a team and shared the ball. We played as a unit instead of trying to play as individuals, which was a major key to our success."
Stone also commented that it felt "fantastic" to finally have the season in full swing. "We've had a handful of scrimmages between the fall offseason and the couple of weeks before the spring season starts," he said, "but nothing feels better than playing a game that means something for the standings. It adds fuel to the fire of all our passion for the sport."
Stone also commented on what he felt were the strengths of the Yellow Jackets on Saturday. "I think one of our team's big strengths is how close we all are. Seniors and freshmen hang out together which makes us a close knit group of guys. While we do have a core of younger players, I think that plays into our strengths. I say this because it makes those guys hungry. They can't wait to play the game which makes them strong players. Another big strength I think this team has is our communication, especially on the defensive side of the ball. When the defense is loud and talks, it's going to be hard for anyone to beat them."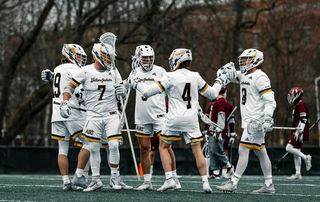 Stone elaborated on the fact that there are so many first-year players on the team this year. He said that the freshman "…have made a massive difference, and that may even be an understatement. They have come into this program and have bought into the systems wholeheartedly. They continuously push each other as well as the upperclassman to get better every single day at practice. They are hungry and are all fighting to try and get a starting spot on the roster on game day which in turn makes everyone else play better and want to be better."
I asked Stone about his expectations for the upcoming season. "The whole team wants to shock the entire NE-10 conference," Stone said. "We've been overlooked for years, but this is the year where both myself and the team think we could make some noise in the conference. We plan to go out every gameday and play every game like it's our last. It doesn't matter if it's the number one team in the country or someone lower–we want to go out and play our hearts out. I expect to see amazing things out of this group of guys. We keep getting better every day and I expect to see some wins checked off in the column this year."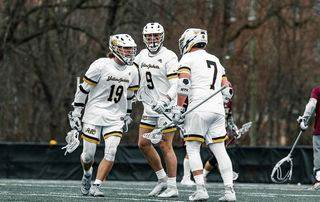 Another redshirt junior from South Hadley, Stephen Stratton, echoed Stone's sentiment about the victory. "It feels good to start the season with a win especially after last year," Stratton said. Teamwork and communication played a big part in the win and it feels good to play someone else, especially when you come out on top! We want to compete this season and try to make a name for ourselves… I think the freshmen are going to help us there. They have made a huge difference and they are setting the bar for the future."
There are a lot of first-years on this lacrosse team who, according to the upperclassmen on the team, have made a huge difference. One of the freshmen who has made a statement so far is Rowan Ruggiero from Lowell, MA. In this game against STAC he had one assist and six ground balls. "It feels amazing to win my first game as a college athlete," Ruggiero stated, "especially because I am sharing the win with my teammates."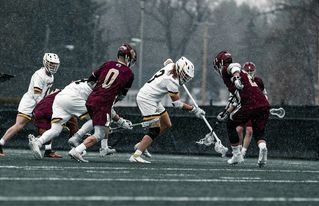 What has been the key to this team's success? According to Ruggiero, "Communication and teamwork played a tremendous role in our win over STAC. We were able to play as a team, especially on defense, doing what we have been coached to do. Coaching definitely plays a big role… Each of our coaches prepared us to take on our first real competition. Seniority has also played a hand in helping the freshmen quickly adapt to the collegiate competition."
Ruggiero was excited that the season has finally begun. "It feels great to finally get started and play another team," he said. "We are able to analyze what aspects of our games we can work on to better prepare ourselves for future competition. Playing the first game and winning in a way took some stress and anxiety off my shoulders because there is no more anticipation of playing that first game."
Ruggiero added that he expects great things from the Yellow Jackets this season. "I fully believe that our team will be competing… at a level that it has never been at before."
It will be exciting to follow the men's lacrosse team throughout the 2022 season. Their next home game is against fellow NE-10 competitor Adelphi University at home on March 5. Go and show your support!