AIC Hockey Hosts Quarter Finals at Olympia Ice Center
The men's ice hockey team here at American International College usually plays its home games at the MassMutual Center in downtown Springfield. This rink has been AIC's home now since the start of the 2016-2017 season. Before sharing this beautiful rink with the Springfield Thunderbirds, AIC used to play out of a nice local rink called Olympia Ice Center. This year, due to scheduling conflicts with the MassMutual Center, the same Olympia Ice Center will be hosting the quarter finals of playoffs.
The Olympia rink is used for a lot of training and team practices. Local high school hockey games tend to be very popular and exciting there as well, and it is also home to the Western New England hockey program.
The AIC Yellow Jackets punched their ticket to host the quarter finals round at their home rink two weekends ago when they beat Mercyhurst by a score of 5-1. The Yellow Jackets have now won their fourth consecutive Atlantic Hockey regular season championship and are looking to win another Atlantic Hockey championship. The Yellow Jackets finished the regular season with a record of 18-12-2; they have had a tremendous season and look to continue this success into playoffs.
I talked to Hunter Johannes, a junior on the men's hockey team, about hosting the quarterfinal round at Olympia. He stated, "Olympia is going to be very fun. We are used to playing in front of a quarter-full arena at MassMutual, and it's such a big building that it is not as loud as we would like. But Olympia, on the other hand, holds a way lower number of people and should be a very fun and loud atmosphere."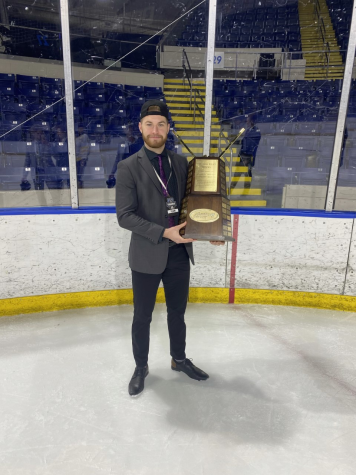 I spoke with Patrick Tabb, who is not only an AIC hockey alum and current AIC hockey skills coach and assistant coach; he is also the owner of Olympia Ice Center. I asked him about hosting the playoffs and what it means to him. "It's our pleasure to host AIC hockey," Tabb said. "We have a long history working together and it's great to see where the program has come." Tabb also mentioned, "We expect the arena to be electric. Capacity is twenty-two hundred, and I don't see any reason why we don't hit that number. The local hockey community is strong and the Olympia Ice Center is the hub of that community!"
The Yellow Jackets are currently waiting for the first round of playoffs to finish to know who they will be playing on the weekend of March 11-13th. The games will be hosted at Olympia Ice Center at 7:00 both nights of March 11 and March 12, and the third game will only be played if it is needed on March 13.
You can get your tickets in advance here: https://aic-athletics.square.site.