AIC Hockey Finishes Another Successful Season
The AIC community has gotten spoiled by the consistent success of the men's hockey team. Luckily, that will continue this year as well. The Yellow Jackets have won their fourth straight Atlantic Hockey Association regular-season title, heading into the playoffs to attempt to win their third AHA title in three years (excluding the COVID year).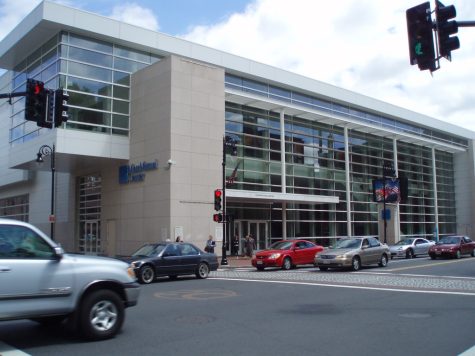 The team didn't start out the season with their best skate forward though. They started with 4 wins, 9 losses, and 1 tie in the first 14 games. In their last 19 games, they completely turned it around with 14 wins, 3 losses, and 2 ties. They played pretty well in conference play with 17 wins, 6 losses, and 3 ties. At home, they were pretty dominant with 11 wins, 5 losses, and 2 ties. On the road though, they were average at best, with 7 wins, 7 losses, and 1 tie. They finished the season with a record of 18 wins, 12 losses, and 3 ties.
Speaking to the adversity the Yellow Jackets faced early on in the season, I asked junior forward Blake Bennet to what he accredits the turnaround. "We always believed in ourselves and what we were doing," Bennett said. "We had some losses at the beginning of the season that helped us learn and realize our identity, and that's why we are such a good end-of-the-season team."
As I said before, the AIC community has been pretty spoiled when it comes to how well the hockey team has done the past couple of years. I asked someone who had the chance to watch their success over the past few years. Senior Marcus Thomas said, "I came to the school for football as a sport, but I always heard about the hockey team. They're sort of a big deal here because of their winning consistency. It's like you almost expect them to be in the winning conversation every year."
The final win of the regular season against Niagara University also secured Coach Eric Lang's 100th AIC career win. Lang has an AIC career record of 100 wins, 85 losses, and 17 ties. This is truly a remarkable accomplishment. Coach Lang was named the 9th men's ice hockey head coach in program's history back in 2016. Coach Lang has a prior history with the program as both a former player (class of '98) and as a graduate assistant from '06-'08. He's also coached at Army West Point, against whom the Yellow Jackets compete regularly, and was the head coach of both the women's and the men's hockey program at Manhattanville College.
Coach Lang has such a great resume when it comes to hockey. I asked Blake Bennett what it was like playing for such a great coach, and what made him want to play for Coach Lang. "He has the most professional approach in coaching, period," Bennett said. "It rubs off on the players. He leads us to be a very high-class organization and it's clear to see these things since he's changed the standard of winning here."
I also asked Thomas what he can say about Coach Lang from the outside looking in from his time at AIC. "I'm not sure what it was like before Coach Lang took over," he said, "but I do know that coaching to consistently win how he has every year is not the easiest of jobs. You have to almost recruit a new team to develop them every year and that's not the easiest. So, definitely a lot of credit to him."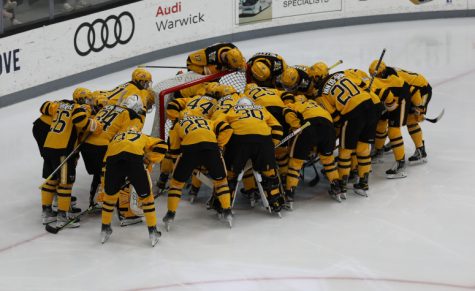 It is safe to say that Coach Lang has the team playing great, though the dedication of his players should not be overlooked either. The hockey team will continue their season in hopes of winning another AHA tournament, as well as winning a national championship.
Their next game is the first game of the AHA tournament at Olympia Ice Center on Friday, March 11 at 7:05
Don't forget to come out and support the team. GO YELLOW JACKETS!