Senior Spotlight: Sam Giordano Named "Player of the Game" In Victories Over LeMoyne, Felician
Liz Day, Staff Writer
April 14, 2022
Sam Giordano is a standout senior midfielder for the American International College women's lacrosse team in Springfield, Massachusetts.
It has been a great week for the Yellow Jacket; Giordano netted four goals in two games against ranked opponents. She had two in a loss against the 10th-ranked LeMoyne, and two against the 21st-ranked New Haven Chargers. She was named "player of the game" in both of these matches by her teammates.
These four goals bring her season point total to 10. Giordano has 35 career points and 21 career ground balls. Her career high was a hat trick in a loss at Abdow field against Southern Connecticut last season.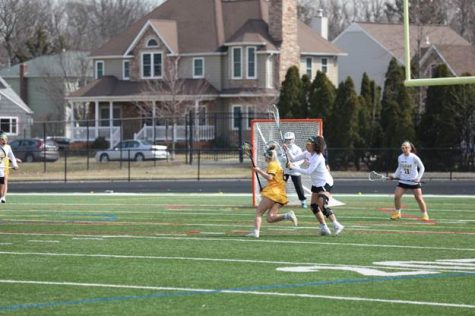 Giordano is a four-year member of the team and has been playing the sport for eleven years. Over her years at AIC, she has played every position except goalie. She explained in an interview, "Currently I play midfield, although throughout my time at AIC I have played defense and attack as well. Of all the positions I've played, midfield is my favorite because it's a combination of the other two. I like that there is never a dull moment and you get to see all sides of the field. No matter what kind of game it is you are always involved."
Standing at just 5'2" Giordano is a force to be reckoned with on the field. "I believe I am a team player." she said. "My first instinct is usually trying to help a teammate, whether it's sliding on defense or picking and moving off the ball on attack."
Her coach, Riley Brennan, who is in her third season with Yellow Jackets, agreed. Brennan stated in an interview, "Sammy is the ultimate teammate and player. She has stepped into a variety of different roles and positions on the field since her freshman year and adjusts quickly every time. We have played Sammy at almost every position on the field, and never once heard a complaint or excuse. She is the kind of player you want all over the field."
Giordano's favorite moment this season was scoring two goals against LeMoyne. "It's a great feeling to be able to compete with such a skilled team," she said. "And our energy was contagious." She commented on the highlight of this season for the team as well: the win against Felician. "We had eight different goal scorers and overall worked so well as a team. I think that game gave us the confidence we were lacking to recognize our skill and use our strengths to our advantage."

Giordano's favorite memory off the field was her trip to Florida during her freshman year. Number 8 loves the culture and the team. She explained, "The team is FUNNNYYYY. It's such a great group of girls. Everyone's personalities all mesh so well, both on and off the field. It's nice to be surrounded by people who you know are gonna make you laugh and cheer you up even when you're running a six pack together."
Her teammate and captain Madison Bis only had nice things to say about her fellow senior. "Sam is a player that steps up both in practice and games," Bis said. "She cares for her teammates both on and off the field, and brings a lot of positivity and laughter to our team!"
Giordano chose AIC because of how close it is to East Longmeadow, her hometown. She is a commuter and lacrosse gave her the opportunity to become a part of the AIC community.  Graduation will be bittersweet for the criminal justice major. "My overall time at AIC has been one I will never forget," Giordano explained. "I have made so many great memories and made lifelong friends. I've had some really interesting courses and made many great connections that I can use in the future when searching for a new job."
As she is wrapping up her final season as a Yellow Jacket, Giordano reflected about her time as a student athlete and what she is going to miss the most. "Being a part of the lacrosse team is definitely going to be the thing I miss the most about moving on from AIC," she said. "Having to wake up early and fundraising and all the things we complained about doing together are the things I will miss the most. Seeing this program grow and each individual excel, and just being a part of something with people who were all working towards the same goal made my college experience so much more."
Giordano's laughter and hardworking attitude will be missed the most by her teammates and coaches.
Before her time at AIC, Giordano was a four-year member of the East Longmeadow High School lacrosse team, and three-year member of the volleyball team as well.
Giordano hits the road with her squad in an upcoming game against Southern New Hampshire on Wednesday at 4pm.