Senior Spotlight: Nicole Mercadante Starts the Offensive Spark in OT Win Over Franklin Pierce
Liz Day, Staff Writer
October 6, 2022
Nicole Mercadante, a senior standout on the American International field hockey team has returned for her fourth season with the Yellow Jackets.
Nicole, or "Merc" to her teammates, has been an asset since she transferred in during her sophomore season. Her most recent highlight was a beautiful pass that led to the first goal of the game for AIC against Franklin Pierce in the third quarter. Na'Bree Wallace got the tally for AIC and this pass from Merc started a 3-goal run to secure the victory over the Ravens. Merc also set up Morgan Martellio for the finish in a 2-1 win over Molloy. Merc has 2 assists on the season and 11 points in her career.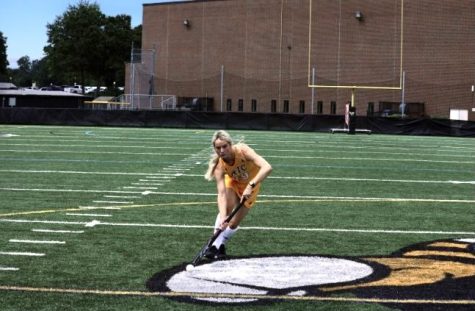 The exercise science major describes her style of play as "gritty." Mercadante said, "It may not look pretty playing, and it's scrappy, but I get the job done somehow. It might be while I'm on the ground because I tend to fall a lot, but the effort is always consistent for me."
Her coach Rhonwen Peters describes her as "aggressive and fearless on the field. She's very coachable, so when we try to implement new techniques or tactics, I know she'll be one of the first to try to implement them into her gameplay. She plays hard and pushes herself each and every day."
Brooke Szafran, a junior starter from Agawam, also commented on her teammate. "Merc as a teammate is very outgoing and really knows how to lift her teammates' spirit up," Szafran said. "She is always working a hundred and ten percent, and the energy she gives off is super positive. Her style of play is aggressive. She is always going to the ball and never giving up. "
Coach Peters has been head coach for the past six years, and her favorite memory of Merc was hard to choose. She explained, "Watching her do Cardio Sport in the CCA will always be a memory that pops into my mind when I think of her. Also, she used to try to order a cheese danish with her pregame meal from Panera. Her first visit to campus comes to mind, too. Wow, so many memories! It's tough to pick a favorite."
Merc's goal for her final season is to "take it all in. This is my last year of playing for AIC and I want to be able to look back and say that I left everything on the field every game." She continued, "Winning is definitely another goal, but it's not all just about that… I want to appreciate every moment I have with the team, the school, and the sport, so I do not look back in any regret of getting caught up too much on the little things while looking at the bigger picture–that this is my last year, forever." She added that another goal is simply "to have fun."
Szafran and Coach Peters explained what they are going to miss the most about Merc. Szafran explained, "I'm going to miss her energy and her being a great friend everyday to me and her teammates." Coach Peters shared similar thoughts. She expressed, "Merc brings her genuine self to our team. She's fun, works really hard, and is overall an excellent teammate." She continued, "I love her energy. She makes us laugh all the time and she's a positive, reliable presence for our team. I admire her ability to laugh at herself and pick herself up after she falls down (both literally and figuratively)."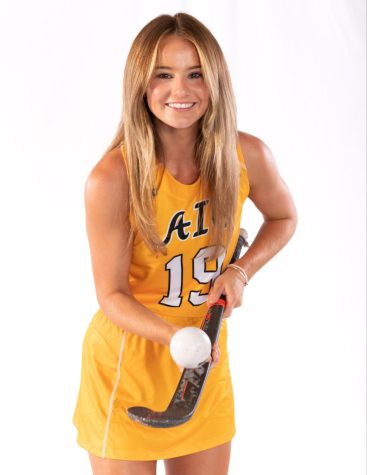 Merc also took a moment to reflect on her time at AIC and shared her thoughts with me. "My time at AIC was eventful and I will cherish those memories for the rest of my life from here," she said. "You do not believe people when they tell you it goes by quickly until it flashes right in front of you. I will be forever grateful for meeting so many great people and have learned so much about myself during my time here." She explained further, "What I will miss the most at AIC would be the people. I have so many great friends that will always be close with me."
You can see Merc and the Yellow Jackets take on Franklin Pierce at home on Tuesday, October 11 at 7:00pm.