AIC's New President Holds First Town Hall Forum in Two Years
American International College held a Town Hall meeting on Thursday, October 13, 2022 at the Esther B. Griswold Theater. This marks the first time since March 2020 that the Town Hall was an in-person event due to COVID restrictions that lasted over a year on AIC's campus.
AIC Town Halls are meetings for the purpose of discussing the school's 2022-2027 Strategic Plan regarding the implementation of its new Vision Statement, Mission Statement, and Core Values, which include Access, Opportunity, Diversity, Belonging, and Community.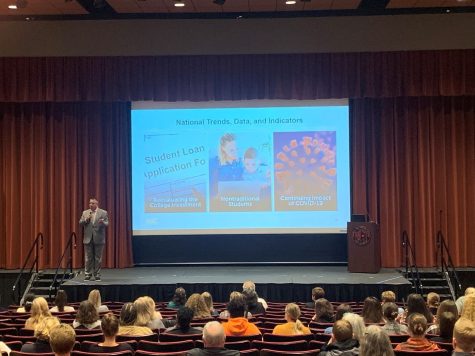 Thursday's meeting was also the first Town Hall led by AIC's new President Hubert Benitez, who took office as the college's twelfth president on April 11, 2022. Benitez stated in an interview that he was inspired to become president of AIC because he "felt drawn to the institution's rich history and its core values, especially in regards to opportunity and diversity."
"I hope that as President I am able to create an environment where every student feels accepted and included," Benitez said, "especially first-generation college students and people who never before saw college as a viable option, as well as non-traditional students."
American International College's Chief Operating Officer, Executive Vice President, and Chief of Staff Nicolle Cestero said that she has great faith in President Benitez to lead the school. She said that his leadership will "focus on making an inclusive environment where college is more accessible."
In AIC's October 2022 Town Hall, the main topic of discussion was the contents of the 2022- 2027 Strategic Plan. AIC's new Mission Statement is "To provide access to a holistic education in an inclusive environment that propels a diverse community of learners to personal growth and professional success." Its new Vision Statement is "To be a New England college of choice for students seeking a sense of belonging, innovative education, and profound student experience."
The Strategic Plan focuses on enhancing AIC's academic portfolio, ensuring long-term fiscal sustainability, creating strong support systems, developing, growing, and maintaining mutually-beneficial relationships, emphasizing diversity in our community, and creating an environment that promotes academic success and competitive excellence.
The Town Hall meeting was essentially an announcement of American International College's intentions and goals moving forward.
Fortunately, in the interest of keeping AIC's student body up to date on the school's Strategic Plan, there will be a Town Hall Forum for students on October 19, 2022 at 11:00 AM at the Campus Center Auditorium.