Cast of 'Fences' Reflect on Family, Struggle, and Community in Upcoming Fall Production
Students and alumni alike here at AIC had the opportunity to share their own insights
as performers about this fall's major production of August Wilson's
Fences
. Three cast members shared their reflections on their roles, including Dante
Hayes (who plays the role of Troy Maxon), Zakala Coffman (an alumnus playing the role of Rose,
Troy's wife) and, Uwimana Liverpool, who plays the role of Troy's daughter, Raynell.
Fences
is an unapologetically Black play written by the American
playwright August Wilson. The play debuted in 1985 on Broadway and later went on to win
several awards. The interesting part of the play is how real the characters are who are being
depicted. Earlier in his life, August Wilson recorded his interactions with regular Black people and
families, which occurred in barber shops, stores, and other everyday walks of life. Fences highlights the drama of those
seemingly ordinary lives.
Cast members were asked to reflect on two main questions. First, what
does this play Fences mean to you in general, or as an actor/actress? And second, what do you think
the impact this play will be on our community at AIC?
"This play is… historically rich," Dante Hayes said of the play, which is set in Pittsburgh in the 1950s. "I find that Troy gives me an opportunity to get to
know and further understand members of my family who don't give access to their insight… I feel like Troy would only confide [his] stories in [his] best friends and close relationships. So I guess for me, it just… gives me a chance to show them I can learn from our history… I got Troy Maxon under my belt."
Commenting on the impact he thinks his performance might have on the community at AIC, Hayes added, "I think a lot of people aren't gonna be ready for this play. They're either not gonna know
what it is, or they're gonna be expecting something it's not gonna be. Because it's very raw. It's very
real, and it's pretty disconnected from our time now, while at the same time being presently
important." 
This is a powerful message coming
from one of our seniors at
AIC. Dante Hayes holds one of the leading roles of the play, and
has to fit in the shoes of
his character Troy Maxon, who is a powerful
representation of a working-class Black man in Pittsburgh in the 1950s.
Each character will share some sort of
insight for the audience about the
struggles of African Americans this country.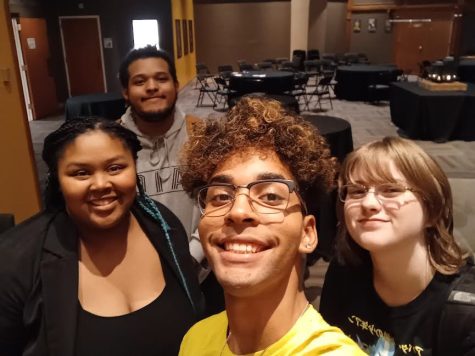 This is one of the ways August Wilson has efficiently made these characters: through analyzing
the real stories of people facing these struggles.
Within another interview, Zakala Coffman, who plays Troy's wife, Rose. Anyone who has
witnessed either the recent Broadway production or the recent film version of
Fences
knows Viola Davis's depiction of
Rose was a very powerful one. For Coffman, it is not just about trying to fill Davis's shoes or trying to make the character her own, but to fill the shoes and perspectives of all the women of color during those times, who faced the emotional abuse of a man cheating on her.
Commenting on what the play means to her as an actress, Coffman said that it is a play "about the struggles of Black people, something I can resonate with. I see characters and actions that correlate with my family and people that I know, so it just awakens something that we need right now."
Coffman also commented on how she thought the audience might respond. "I think it's going to shock people," she said. "I think the audience can have a number of reactions, but this play–in terms of the community–the community is made up of a lot of people of color. So they're going to relate to this; they're going to relate to the mom that's trying to keep the family
together, the dad that's been pushed too far and he's trying to do good but he's not doing as good
as he should, the child that wants that respect and acknowledgement. People are going to
understand this… in all degrees, but specifically the Black community." 
Uwimana Liverpool takes on the more positive,
innocent, and sweet role of the child, Raynell Maxon. Her character highlights the pure-
heartedness of youth and young children. In spite of the emotional rollercoaster that this play offers and the
struggles it depicts, the role of Raynell softens the mood for the resolution of
Fences
. 
Liverpool said,
"Being a part of Fences means a lot for many reasons. To start, it's an honor to do a play
that's for every Black person out there. But more than that, it's my last play here at AIC–at least
as an undergrad." 
Liverpool also offered her thoughts on how she hopes the audience will react to her final production. "I think this play will have every BIPOC student together and give them all something to
bond over," she said. "I think Fences tells a… universal story for Black people, and I'm excited to tell our
version of it." 
Do you feel as if the impact
Fences
will have on its audience, incoming
freshman, and/or already enrolled students will compel them to participate in an AIC production
or spark a passion of storytelling through theater?
The potential reactions this play can generate are endless. S
o come out and support the show in the beginning of December. The community of Springfield will witness
the power of young adults as they share the trials and tribulations of the Black experience. 
August Wilson's Fences will be performed in the Griswold Theatre on Friday, December 2, and Saturday, December 3, at 7:30 p.m. and Sunday, December 4, at 2:30 p.m. Admission is free but donations are appreciated and will be accepted at the door.